An Open Book
Paige Owens' new chapter as NHC Public Library Director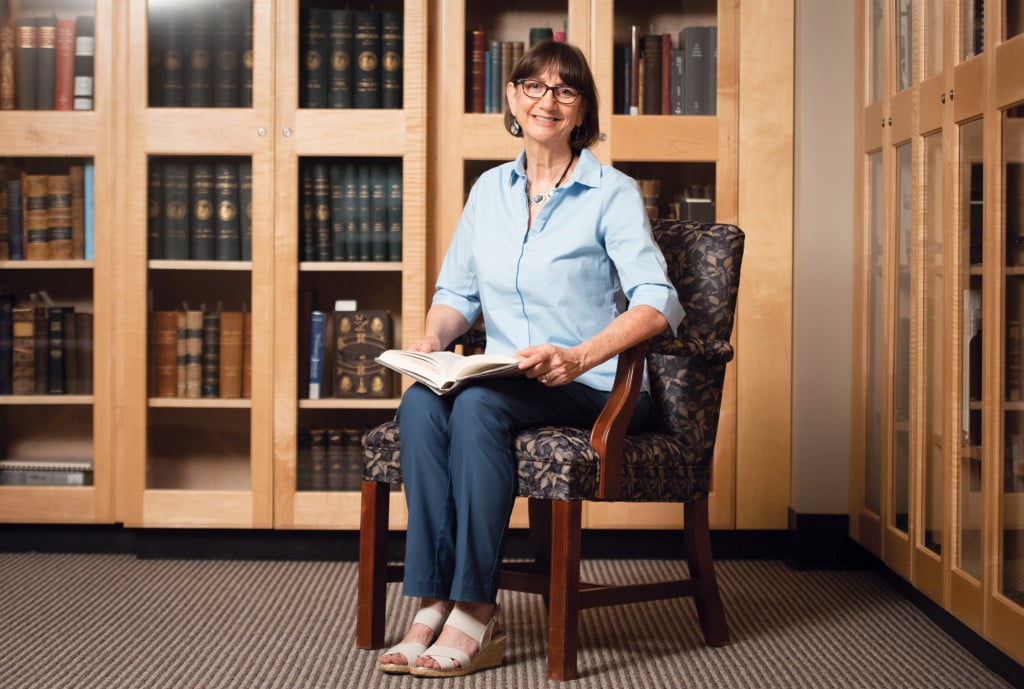 While growing up in the Los Angeles area, books filled the home of PAIGE OWENS. "I'd roam the house and pull books off the shelves," she says, "or poke around my siblings' closets and read whatever I could find."
This inquisitive nature and love for words took her down a winding path, which eventually led to the New Hanover County Public Library. After previously serving as the library's assistant director, she recently took on the role of library director, filling the shoes of Harry Tuchmayer, who retired after thirty-eight years with the county this summer.
Many people assume librarians spend their days reading, shushing, and shelving. In reality the library provides a range of important services, and there is rarely a dull moment. "I have a lot of fun solving problems and figuring out puzzles," Owens says. "That's part of what librarians enjoy. They like to dig in and find answers and never let go of a question until they solve it."
As a librarian, Owens solved problems for patrons who came through the doors. Now, as the library director, she solves problems for the library as a whole.
"Right now, we're facing the strain on our library staff," Owens says. "There's so much to do, the staff tries to get it all done, and it's too much. I see this as another puzzle to be solved. There is a way to meet the expectations of the public while keeping staff safe and fresh and energized – we just have to find it."
Another puzzle Owens looks forward to solving is finally achieving the mission of a library within five miles of every resident in the county. This includes the downtown library, which remains part of the county's vision for the future.
"The county owns property in the Northchase area on College Road that is earmarked for a library, and we plan to build something like the Pine Valley library in a few years," Owens says. "Once that last library is in place, we'll focus on maintaining and updating our facilities, programs and services."
In a world where information is readily available and accessible, Owens believes libraries are more important than ever.
"The public is overwhelmed with information," she says. "Because the answers to simple questions are easy to find, library staff tends to get more in-depth questions from people trying navigate things in their personal lives. After Florence we helped people go through their insurance and apply to FEMA. We're providing an outlet for people who want and need to get away from their connected lives and actually be face to face with people. Book clubs are popular and we also offer programs for all ages, everything from paint your own Russian nesting dolls to a live action Fortnite program."
Books remain the backbone of the library, so it makes sense that a library director would be well read.
Owens is normally in the middle of three books at any given moment – one on her bedside table, one in her bag, and one in the library break room.
The last book she finished was Mr. Flood's Last Resort, by Jess Kidd. "It has everything that makes a good vacation read – a crotchety old man, a young woman who's confused and trying to make her way in the world, an old, decrepit mansion, and some magical realism," she says. "A delicious read, and not too demanding."
While programs, services, and books are vital parts of the library, Owens believes her staff is its biggest asset. "They're so creative, so energetic, always coming up with new ideas to enrich people's lives and help them learn and give them a social outlet. It's truly a helping profession."
Take 5 with Paige Owens
What's your favorite book? "This is an impossible question, so I will respond with the book I've highlighted most, The Works of Walt Whitman. Whitman's emotional exuberance is very different from my own more analytical perspective. His optimism and enthusiasm inspire me."Where are some good spots around Wilmington to sit and read? "Any of our public libraries, of course! And, then there are waiting rooms, bus stops, dressing rooms, Red Cross (donating blood offers guilt-free reading time), parks, grocery store lines, and anywhere else a reader finds herself with a few free minutes."

Best movie adaptations from books? "I really enjoyed the BBC adaptation of Charlotte Perkins Gilman's short story The Yellow Wallpaper. The film manages to flesh out a spare story without losing the intensity of the original – a notable feat."

Since your earliest role with the New Hanover County library system was in the downtown library's children's room, what children's books would you recommend to parents? "The best books for children are the ones they choose themselves. Set your children loose in the age appropriate section of the children's room at the public library and let them bring home armloads. That said, motivated parents can find recommended titles for all ages on the Kids page of the library's website, nhclibrary.org. And, our trained staff are always on-site to offer expert assistance."

What's an exciting trend ahead for libraries? "With citizens increasingly interested in learning, making, creating, and doing, libraries are opening up spaces once reserved for rarely used reference books and back issues of periodicals (now available electronically) for makerspaces, crafting programs, community forums, and other interactive activities."
To view more of photographer River Bondurant's work, go to autumnrivermedia.mypixieset.com.
Want more WILMA? Click here to sign up for WILMA newsletters and announcements.