AKA: Giants in Our Community
Coretta Scott King and Rosa Park's sorority turns 80 in Wilmington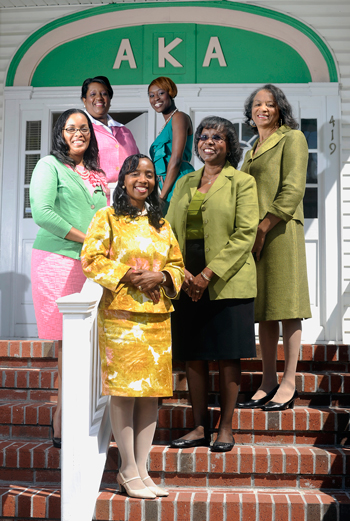 The first predominantly African American sorority, Alpha Kappa Alpha's Wilmington chapter celebrates its 80th anniversary this month. The local Alpha Psi Omega graduate chapter has about 30 members who are scholars, community leaders and business professionals in the Wilmington community. It was the first chapter in North Carolina to purchase its own sorority house, which is located at Red Cross and North Fifth streets. Being a pioneer is second nature to them.
"Our founders were probably more visionary than any other women of their time," said Bettie Glenn, who joined AKA 44 years ago while attending college at Winston-Salem State University. She joined because several of her teachers, role models and "giants in the community" were AKA members, she said.
Nine Howard University students founded the organization in 1908.
"The thing that was always foremost in their minds was that they were given the privilege of being educated and they had the responsibility to create a pathway to higher education for other African American women. And, that was their focus," said Glenn, who is a retired Associate Dean of Academic Affairs for UNCW's School of Nursing.
Unlike many collegiate sororities, AKA, has a graduate level where professionals and community leaders are invited to join after college. These chapters, such as the one celebrating its 80th year, are community service and leadership organizations for women.
The criteria to join are stringent. Members must be graduates of a four-year college with a C+ or higher grade point average. And, college transcripts are required. Community involvement is a pre-requisite. And, a principle the members stress in themselves and fellow sisters is a "finer womanhood" which includes strong interpersonal skills and a sense of selflessness.
"[AKA] was about culture and exposure and making sure all of those things were in place that would help people succeed and the focus was on women," Glenn said.
Now, AKA has grown into an international organization open to women of all races and ethnicities. Every two years, AKA hosts an international convention or boule (pronounced boo-lay) where members from around the world gather. This July, four members from Wilmington's chapter will attend the 65th boule in San Francisco.
Membership can be expensive between the annual dues and travel expenses, said Rachel Stephens, local chapter president. But, AKA membership is a ticket into an elite group that provides a worldwide network of connections.
"I know I can go anywhere and meet an AKA woman who is willing to help," said Stephens, who is also an adjunct professor at Cape Fear Community College. In this way, it gives them the security to be able to pick up and move anywhere in the world, an especially valuable support system for women.
The next generation
Twenty-seven year old Brandie Jones is the youngest member of the graduate chapter in Wilmington. In high school, she was an AKA debutante and now she co-chairs the program as well as a new Emerging Young Leaders program for middle school-age girls.
She chose to join AKA because of its legacy as the first predominantly African American sorority. She was invited by a friend of her mother to join. Jones' mother was a single parent, who had attended community college and therefore, was not qualified to join AKA, she said.
She joined after she graduated from college with a business degree and returned to the Port City, where she had grown up.
"Before I used to be personable and funny and open, but I never wanted to be in the forefront of a program," she said. "A lot of [AKA] has built my confidence. I trust myself more. I really love the support I get from my sisters."
Last year, Jones hosted a social at her house for her AKA sisters, where she taught them how to play Wii. And at the AKA house, although the members' ages span decades, they talk and joke with each other as if they are all the same age.
In between posing for a photo, they softly sing "We are Family" riffing off each other.
Although AKA works hard to give back to the community including partnering with local groups like the New Hanover Regional Medical Center's Zimmer Cancer Center and Relay for Life, it's clear it is a group of women who also like to have fun. AKA is looking to strengthen partnerships with local groups that are also raising awareness and funds for health education, social justice and environmental stewardship.
"For organizations who want to reach an organization that's as transcendent as ours, were here," said Cheya Dunlap, AKA member and senior vice president of human resources for GE Hitachi Nuclear Energy.