Ah, Valentine
February Men's Room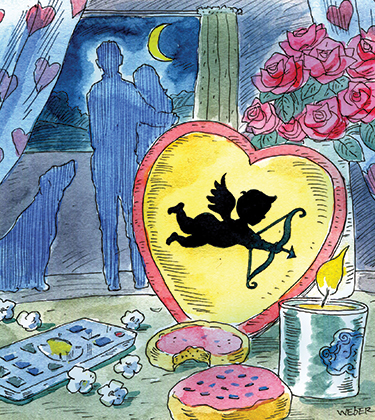 How's the chocolate tart, sweetheart? How's the wine, Valentine? Yes, let's celebrate – we've survived the holiday season, which brought us weeks of overeating, a chance to wear our red sweaters again, and a bubbly late-night toast. And now we're here – together, thank goodness – for a night of overeating, a chance to wear our red sweaters again, and a bubbly late-night toast.
When we sat here twelve months ago tonight, we had no idea what lay ahead of us. Soon, we flew to south Texas for your nephew's wedding and explored the borders of both our country and our relationship. Months later, we rode out the hurricane together, snacking endlessly while watching the dire forecast endlessly and waiting endlessly for the power to go out (though it only blinked, only once). In the fall, we voted together, then celebrated (or commiserated) with designer doughnuts dusted with hope for democracy. We strategized when your big dog grew too rambunctious for your small neighborhood, and now he lives with me and fills my medium house with his boundless love and limitless fur.
No question, some things have changed in the past year – I like to think all for the better.
For one, I assure you that what I've gained in weight, I've lost in cholesterol points. And what I've lost in hair, I've gained in baseball caps. I've learned to accept tinnitus as a joyful noise and my reading classes as my all-the-time glasses. I now understand how my Lynyrd Skynyrd ringtone might sound out of place when I get calls during funerals. And even though I've plateaued in my workouts at the gym, at least I'm holding at neutral – as I see it, no regress is progress.
I have taken to heart your suggestions that I reconsider and refine my diet and personal aesthetics. I've warmed up to oatmeal, quinoa, chia seeds, and organic milk, to flossing and non-iron shirts and soy candles and air fresheners that smell like sunny meadows in Scandinavia. I no longer buy my hand cream at the gas station. I see the benefits of having fresh flowers grace the dining table, and of wearing pants when fetching the morning paper. Though I don't fully comprehend why you want me to binge on that TV show Crazy Ex-Girlfriend, I'm giving it a chance. And I accept that watching the Carolina-Duke basketball game together does not constitute a legitimate date night.
Thanks to your help during the past year, I can read the signs better now. I know that xoxo is neither a typo nor a hint that you want Asian food for dinner. And when you text me a face with Zzzzz rising from its mouth, I can tell that means I should buzz off and let you sleep.
Oh, and I saw a musical with you. Even though it took me two tubs of popcorn and a bucket of Diet Coke to get through, I see it as a sign that I've evolved.
So, Valentine, have another nibble of chocolate and another sip of wine. Here's to you, sweets. Here's to hearty health and vast travel and immense success and good plans executed well. Here's to baby steps and giant leaps, to dreams and possibilities, and to everything else in the world that comes with this thing called love.
Tim Bass is coordinator of UNCW's bachelor of fine arts program in creative writing
To view more of illustrator Mark Weber's work, go to www.markweberart.blogspot.com.