Adaptation
Hair and makeup influences from the past, present, and future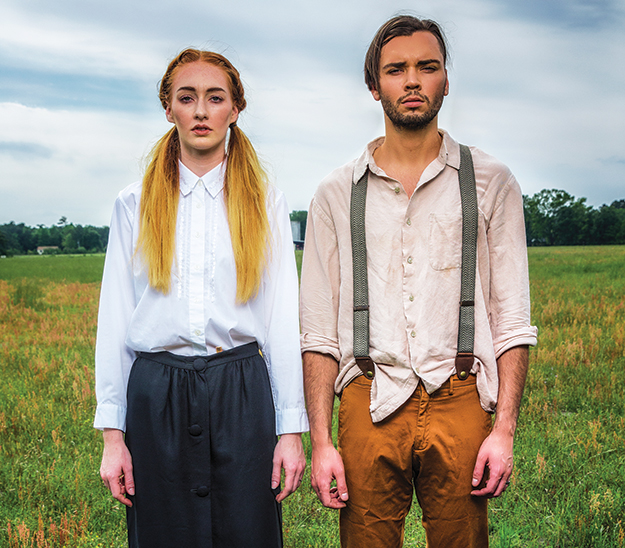 Take a page from the hard-working men and women on the plains. No frills doesn't mean no style. Tuck your hair behind the ears, use a light beige blush with a soft pink lip gloss, and let your natural features shine.
Many of today's trends reinterpret the fashions of yesteryear, creating modern looks with sturdy roots in the past. As part of WILMA's annual guest stylist piece in the September issue, Noelle Knoblach and Jacey Rogers of kreashenz salon + spa guides us through their own reimagined evolution of hair and makeup, making the old new again.

BE PRESENT Today's go-to garments are all about wearability, wherever you are. Transitioning from the workday to a night out with friends is key. Need a quick hair fix? This fall, it's all about texture. Try a versatile fishbone braid. Bonus points – this style continues to look great, even when messy. Start with a soft blush for daytime and accent with a darker shade underneath for riding off into the sunset. Add a subtle touch of shimmer cream eyeshadow in the inner corner of the eyes to brighten your gaze.
FUTURAMA Thinking outside the box means something new for each generation. In kreashenz's future, nothing is confined to your own proportions. In this vision, dimension is added to hair by wrapping it in floral wire and securing with bobby pins and a firm spray between twists. To create the illusion of big eyes, line only the top lid. Apply leaf paper (shown here in gold) to create a truly out-of-this-world look.
PHOTOGRAPHER: Chris Brehmer
MODELS: Lauren Pietrzykowski and Alex Willis
HAIR AND MAKEUP: Noelle Knoblach and Jacey Rogers, kreashenz salon + spa
LOCATION: Old River Farms, 8711 Old River Road in Burgaw