A Wooded Retreat
Eco-friendly meets functional design in this stylish space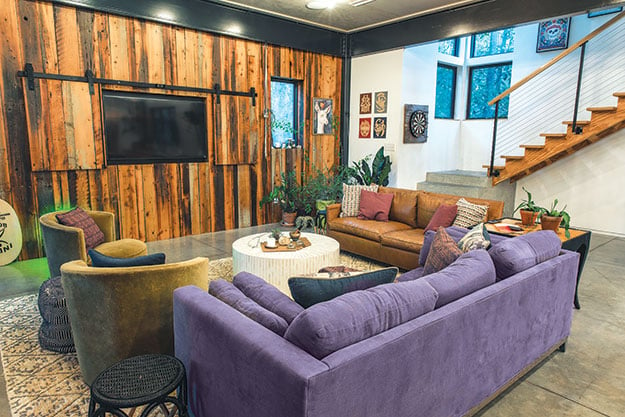 Tucked into the woods between Summer Rest Road and Landfall, the Cornelius family home has the feel of a mountain retreat.
Its painted exterior angles into the trees, and the large outdoor fireplace calls the family of five to the backyard where two large dogs and several chickens share the space with a brightly painted cistern that collects rain used to water the garden.
Built in 2012, the home was designed to be energy efficient, ecologically friendly, and entirely usable.
"We tried to make it as small as possible but to have everything we wanted," TONI CORNELIUS says of the 3,400-square-foot house. "We tried to make every room one we would use every day. I didn't want any unused guest bedrooms; the guest room doubles as a playroom."
The main living area, media room, and master bedroom are downstairs, while the entire upstairs is devoted to their three children. The downstairs laundry room doubles as Cornelius' home office.
Cornelius and her husband, JOHN CORNELIUS, a software engineer, worked with local architect Scott Ogden, of B+O Design Studios, to incorporate the design elements they wanted. Ogden also did a sun study to place the house strategically to minimize heating and cooling costs.
A forensic engineer by trade, Toni Cornelius wanted the house to include raw construction elements – concrete, plywood, rough wood, and steel beams and not a lot of added components.
"I was going for industrial but bohemian," she notes, pointing to a purple sofa topped with large pillows and throws.
The couple also wanted the home to be energy-efficient, so there is solar water heating, recycled denim insulation, plywood where drywall might ordinarily be, and other elements that earned the home a five-star energy rating.
Where they could, they used recycled materials such as siding that the builder, Bill Christopher, salvaged from his own house and wooden pallets.
"Anywhere we could, if it didn't cost more, we would use materials that were more sustainable. Bill helped with that," Toni Cornelius says. "He would go and look and say 'You can do this versus that' and presented options."
The home's main living space is spanned by exposed black I-beams. Bare-bulb lighting mixes with colored globes. The floor is concrete softened by colorful rugs, and the ceiling is plywood. Cabinetry throughout and the upstairs flooring are high-grade birch plywood.
The underside of the kitchen island is faced with pallet boards. One kitchen wall is polished concrete, hand-finished by a local craftsman. Rough, bare wood faces another wall, and cinder blocks climb a wall that supports a bright abstract painting purchased at a festival in Charlotte where the family lived before moving to Wilmington.
In Charlotte, they had a traditional house, which they built and loved. But, Toni Cornelius says, "when we came here, we thought we wanted to do something different, just for us and not for our neighbors. It was a lot of fun."
"We worked on the design for a long time. We hired Scott and worked on designing the plans for maybe eight months" while waiting for their house in Charlotte to sell, she adds. "It is very kid friendly. The people who like our house the most are our children's friends."
Each child has a bedroom with a loft, a personal hideaway; the playroom also incorporates loft space. Off the playroom is a large outdoor deck with views into the yard and the neighborhood. "We tried to make something we all would enjoy," Toni Cornelius says.
To view more of photographer Chris Brehmer's work, visit www.chrisbrehmerphotography.com