A Trip to the Islands in a Coconut Shell
Downtown bar serves up the exotic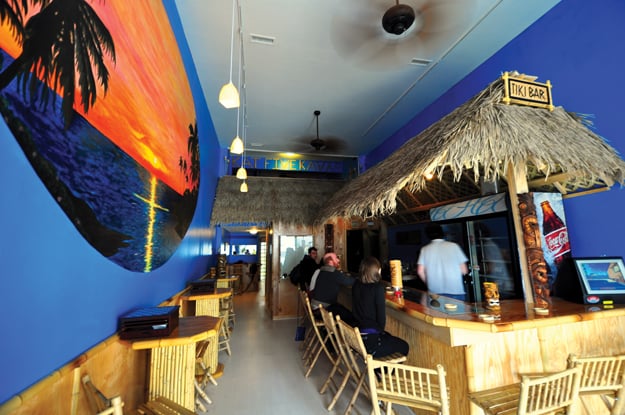 Kat 5 Kava in downtown Wilmington is meant to give you a taste of the islands. Not the OBX, but the Polynesian islands, manifested by the tiki décor and by serving up kava, a drink with sedative powers derived from the root of a Polynesian pepper plant.
A young bartender named Wesley ladled the kava from a five-gallon bucket. He set the coconut shells in front of me and my date. Next, he filled two clear plastic cups with "Very Fine" fruit punch. What for?
"Chaser," he said.
It was necessary. We swallowed the murky brown liquid. It tasted like dirt. Like watery dirt. After a few sips my lips and tongue felt slightly numb, the same sensation produced by analgesic throat spray. This numbness begged the question: what was it doing to our insides?
Kava is said to cure short-term social anxiety, to relax and calm the mind and body, to produce effects similar to alcohol but make you think clearer. It's also been said to cause euphoria, muscular weakness, ataxia, a deep and dreamless sleep, patience, acceptance and a cheerful mood, but if consumed in large quantities over a long period of time—a puffy face, a scaly rash and somnolence, according to Erowid, an online library of information about psychoactive plants and other resources.
Kava comes from the roots of a heart-shaped leafy plant that grows in the understory of Pacific Island forests. It's been used for hundreds of years by native cultures in Melanesia, Micronesia and Polynesia.
Here in post-colonial Wilmington, locals come in day and night for kava at Kat 5 on Grace Street. It serves as a lunch break stress reliever and a late-night calm down, staying open hours after the bars close on weekends. It fills in as an alternative to alcohol for people who have quit drinking.
We were halfway through our shells, feeling nothing except numb lips when Kat 5 regular Aaron Harvey parked his bike outside and took a seat at the bar next to me. He'd just finished his shift at a downtown restaurant and he'd come in for a shell of kava to relax after work. I asked him how he would describe the sensation produced by kava. He said, "It makes you feel decompressed. Slidy, but not overwhelmingly slidy."