A Swingin' Time
Jammin' at Ted's Fun on the River with the Port City Trio.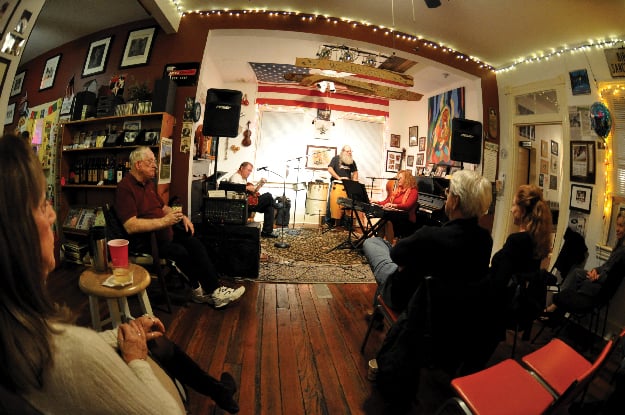 Walking in the front door of TED'S FUN ON THE RIVER at the foot of Castle Street in downtown Wilmington, I realized immediately my friends and I should have arrived sooner. It was about 7:30 on Friday night, and the Port City Trio had already been playing for half an hour.
Ted's, like many downtown establishments, is a converted house. Heads turned from the packed living room as we entered into an area with the feel of a World War II-era
general store.
Wooden shelves line one wall, packed with candy, snacks, canned goods (including the ubiquitous Spam), laundry detergent, and even few varieties of beer. The "bar" is created by a counter and long rectangular cooler meeting at a right angle in front of a beer cooler, a table with carafes of hot coffee and paper cups, and another cooler, holding juices and canned sodas.
The bartender and the register he stands behind look as if they come from another time. The register, Danny tells me as he wipes off the top of my can of beer with a white towel, is from 1906. It is large, gold-plated, ornately carved, and loud. Danny Sinatra himself is tall and slim; his hair is slicked back. He wears black pants, a black vest over a white button-up shirt, and a slim red tie. His smile is contagious.
This is no bar crowd, though, as became apparent when Sinatra tries to explain the history of the cash register to me. Several patrons on the edge of the crowd turn and give us pointed looks.
The Port City Trio, made up of Woody Dobson and Ted's owners, KELLY and JULIA JEWELL, has been playing together for more than fifteen years.
They play Ted's twice a month; otherwise, at this point in their musical career, they mostly play private parties. This crowd is here to listen. There is little chatting; no one gets up for a drink or bathroom trip between songs. "We are a listening room," owner Kelly Jewell emphasizes.
Julia Jewell slides into her spot behind the keyboards a few minutes later. She'd been across town playing a classical gig with their daughter, explains Kelly. "This feels much better," Julia laughs into her microphone.
"Let's play something real slow," she says, and they play the beginning notes of "Summertime."
Swing is what the Trio really loves, says Kelly. "The James Taylor and all that other stuff came later," he says.
Now they play a variety of American standards, blues, and classic country numbers.
The Jewells know their customers and are swarmed with hugs and handshakes on breaks.
Kelly even recognized me when I stopped into Ted's a few days later, despite the fact that I hadn't stayed to introduce myself after the show. To be fair, the crowd at Ted's is decidedly older, so my friends and I stuck out a bit, but by no means were we uncomfortable.
On the contrary, we ran into several people we knew. Bonnie Monteleone ran up to my friend Ashley Hudson when the band took a quick break. "Don't you just love this place!" she exclaimed, gesturing around to the Norman Rockwell prints on the walls and the stacks of toilet paper for sale on the shelf behind us. "I feel like I'm in a cabin somewhere."
Although the Port City Trio only plays the second and fourth Fridays of the month, Ted's hosts music about three times a week. Most shows begin at 7 p.m.
"We like to start early," says Kelly. "We end at nine, and if people want to go out and paint the town afterward, they've got a good start. Or they can just head home."
Ted's Fun on the River is located at 2 Castle Street. For the music schedule, go to www.tedsfun.com.
To view more of photographer Bryce Lafoon's work, go to www.brycelafoonphotography.com.