A Swell Time
Bernadette Burton builds culture and community through canoeing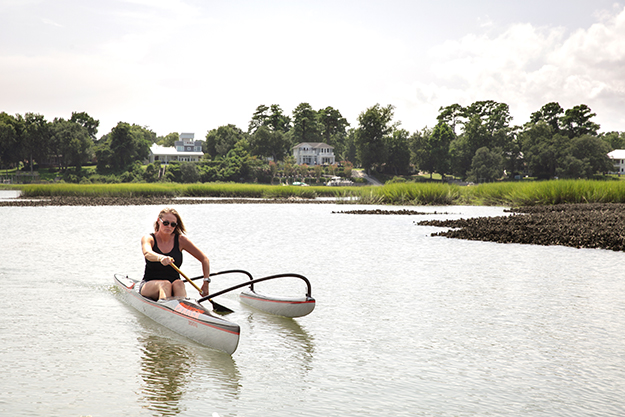 Most Thursday nights and Sunday mornings, BERNADETTE BURTON's canoe cuts through the waters around Wrightsville Beach. As the woman's coach of the Wrightsville Beach Outriggers Canoe Club, she's in charge of putting together practice plans, researching the tides, and setting up the boat line to ensure that everyone, from brand new novice to paddling pro, has a great experience.
Getting to this point was a journey that stretched across land and water. In 2006, shortly after Burton's job transferred her to Dana Point, California, a friend invited her to join the local outrigger canoe club.
"He said it would be a good way to meet people and acclimate to the Southern California culture, which is so different from North Carolina," she says.
She joined the team and immediately fell in love with the sport.
"I'm not a big fan of the beach or the sand, but paddling enabled me and my teammates to be offshore, see whales and dolphins, and get a different perspective," Burton says. "Once I got my first taste of being on a boat, hitting a swell and picking up speed, I was hooked."
Burton was on the water with the group every weekend, competing in everything from ten-mile races to shorter sprints known as regattas.
"This was the first time I'd been on a team that encompassed all ages, all body types. I learned that there's a place for everyone in paddling, even if you're not the fastest or the most athletic," she says.
In late 2012, Burton moved back to Wilmington, and she brought her outrigger canoe with her.
Without a team or a group of people to paddle with, however, she spent less and less time on the water.
"Then, in 2015, Reggie Barnes, who owns Eastern Skateboard Supply, purchased two Bradley Lightning Canoes and put them at Wrightsville SUP," she says. "He wanted to bring outrigger canoe culture here from Hawaii, and he'd take friends and family out for paddles."
Over time, word about the canoes started getting around. The next summer, more people – many of them transplants from Hawaii – began showing up, asking to rent the canoes. That August, a group including Burton met at Lighthouse Beer & Wine and decided it was time to start a team.
"Reggie coined the name, and we formed a 501(c)(3)," Burton says. "We found men's and women's coaches, got out into the community, and made it our goal to put together a team that could join the East Coast Outrigger Canoe Association, travel up and down the coast, and compete in races."
Since that meeting in a beer garden three years ago, WBOCC has grown to ninety members. The women's team has twenty-five active members who attend weekly practices, and the group welcomes anyone who want to give the sport a try.
For those interested, women's practices are currently held Thursday nights and Sunday mornings. Thursday practices are shorter and focused on basic skills, which makes them ideal for beginners.
"It's a chance to get into the groove, learn technique, and build up endurance," Burton says.
Sunday is a longer practice and geared toward those with more experience. While members can join at any time, "novice season" kicks off in April and meets one night a week. This short season provides an opportunity for beginners to get their feet wet before graduating into the open women's and men's teams.
As for Burton, the camaraderie she found off the coast of California is alive and well in North Carolina, thanks in no small part to WBOCC.
"The women in our club have kids and families and jobs, yet they still make time to come together," Burton says. "They've found a place where they fit, and something about this sport has empowered them to get on the water and take part in a competitive hobby. It's a real bonding experience."
To view more of photographer Chris Brehmer's work, go to chrisbrehmerphotography.com
Want more WILMA? Sign up for our WILMA Weekly email and announcements at WILMAOnTheWeb.com.
Take 5 with Bernadette Burton
WHAT'S YOUR FAVORITE PLACE TO PADDLE?
"The US Outrigger Championships hands down – a solid 30-plus-mile race from Newport Beach to Catalina Island. I have raced it nine times. Locally, any little inlet I can get lost and explore."
HOW LARGE IS THE WRIGHTSVILLE BEACH OUTRIGGERS CANOE CLUB (WBOCC) NOW?
"WBOCC is roughly ninety members, including spouses. That's huge being we just celebrated our second birthday."
WHAT MADE YOU WANT TO TAKE ON A COACHING ROLE WITH THE GROUP?
"I am super competitive, and my drive for perfection can be good and bad. I love seeing the fire in new paddlers' eyes when they 'get it,' but coaching has humbled me to appreciate where I started, to where I am now."
WHAT DO YOU DO WHEN YOU'RE NOT OUT PADDLING?
"I am a workout-aholic, am the president of the local UNC-Chapel Hill Alumni Club, and rescue Jack Russell Terriers."
ANY CLOSE ENCOUNTERS WITH NATURE WHEN YOU'VE BEEN OUT?
"So many: whales, dolphins, sunfish! But, last August, we had paddlers in the water, changing out with paddlers in the canoe, while still racing. This massive spotted leopard ray jumped out of the in front of the boat, and we all went crazy as it dove back down. It was magnificent."