A Sports Bar with Charm
Downtown's Husk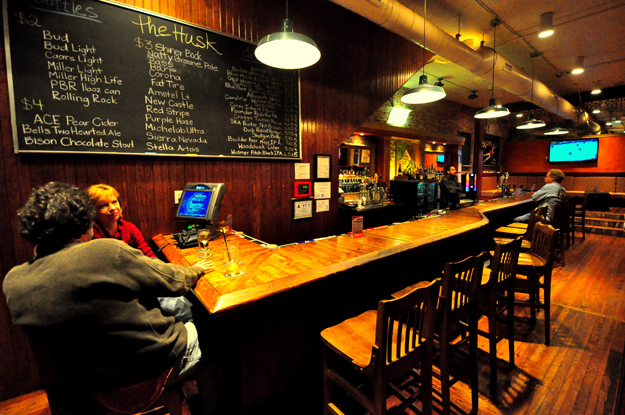 If you've heard talk of the new downtown bar serving gourmet hot dogs, you've heard of The Husk. A classy-looking place with plenty of light and open space, it's perfect for business students, extroverts and people who like to be seen. The Husk also accommodates the sports-minded, offering comfortable oversized booths and a great number of TVs.
But, the new owners retained the original wood preserved from the space's previous life as the Roudabush Seed store.
"It was seeds and bins, bins and seeds," said Justin Smith, owner of The Husk located at 33 South Front Street. From 1924 to 2002, Roudabush persisted on the corner of Front and Dock streets. Smith's vision for The Husk was to create a charming, neighborhood bar with affordable prices.
On a Thursday evening, Smith passed through the bar with a box of programs from his latest theater production.
An actor-turned-restaurateur, Smith said starting the bar and other restaurants has freed him up creatively. "I took the risk out of it the second I started making money," he said.
Smith also co-owns YoSake, The Little Dipper and Mixto. "We felt the way to go downtown was themed experience restaurants," he said.
Last summer, Smith read an article about how Wrigley Field was selling gourmet hot dogs, which inspired him to switch from sandwiches to foot-longs one month before opening The Husk. His chef from YoSake came up with some creative hot dog concepts as the bar opened in September.
So how are the hot dogs?
Two downtown Wilmington women, Ashley Hudson and Melissa Robon, came in to try them. "Last time I was here, there were a lot of almost-cute dudes," Robon said. She said she thought she would like the bar more this time if she had a hot dog.
Hudson ordered the Farmhouse, which includes lettuce, avocado and pickled vegetables. "It was different from what I expected," Hudson said, referring to the lettuce in her hot dog. "But, it was tasty."
"Purse hooks are something I really like about a bar," Robon said, gesturing to her purse hanging beneath the bar. Another nod to the ladies can be found in the two restrooms marked "Women" and "Unisex," eliminating the possibility of waiting in line for the women's restroom while the men's stands empty.
Further down the bar, two women sat amidst a cluster of guys. "I thought this place was going to be just a bar with hot dogs, but it's more upscale," said Jenn Maddox of midtown.
Jessica Bryant of Southport said she likes the drink specials and deals, referring to The Husk's bar menu, which has bottled beer starting at $2. Both women found the atmosphere appealing. "It's very chill, very friendly. I like that I run into people that I already know," Bryant said.