A Seaside Gem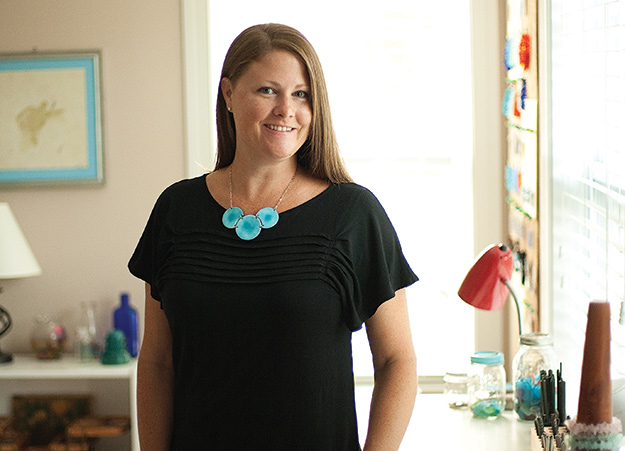 One glance at a collection of Cameron Johnson's handmade jewelry – sea glass earrings and necklaces that simulate the ocean in their weathered texture and coastal colors – and her inspiration is apparent.
Originally from Emerald Isle, Johnson has migrated from one part of the coast to another, now calling Wilmington her home. "Moving away from the beach was not an option for me," Johnson says.
Any coastal native would feel right at home browsing through Johnson's online Etsy store (etsy.com/shop/cjsseashop). There you'll find speckled green and brown earrings with the likeness of a turtle's shell and necklaces made from soft stones that appear to have spent years at the mercy of gritty sand and pounding salty waves. Johnson's jewelry has a way of taking a place and making it wearable.
"I feel in love with the sea glass beads that I use. I just knew that I could do something with them. Once I started, I just couldn't stop," she says.
While always being a creatively inclined person, harnessing her creativity in aim of a career hadn't always been something Johnson strived for. She received her bachelor's degree in business management from University of North Carolina Wilmington.
"Making jewelry for a living was not on my radar when I was in college the first time," Johnson says.
Johnson worked in retail for years before she went back to the basics and started doing what she loves. That's not to say her background in business didn't rear its head on her way to becoming a successful jewelry maker.
"I can definitely say that my degree, as well as the ten years I spent in retail helps with what I do today," Johnson says.
In addition to her Etsy store, Johnson sells her jewelry at craft shows and markets. At one, Johnson found herself alongside some particularly talented metalsmiths. It was there that she learned of a way to expand beyond her work with glass.
"I had mentioned to the artist that I was talking to that I would love to learn to work with metal, and she told me about the metals class at Cape Fear (Community College). A few months later, I was back in school to learn how to work with metal."
Johnson also took a class to learn enameling – a centuries-old process of fusing glass with metal using the high heat of a kiln.
"I enjoy learning new techniques," she says. "It keeps the ideas coming."
To view more of photographer Terah Wilson's work, go to timelessfotographie.com