A new season for vacationers
Checking in on this year's travel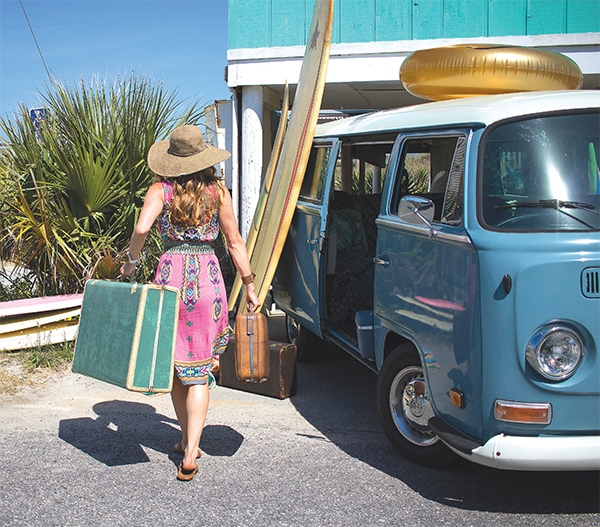 Wrightsville Beach and other New Hanover County beaches rocked by Hurricane Florence last fall have spent much of the spring recuperating and preparing for the upcoming summer season. And with hotels and other rentals reopening for the new season, this summer is one that many rentals still are hopeful will be even larger than last year.
Shell Island Resort and Blockade Runner Beach Resort reopened following the damage caused by the hurricane, in March and February, respectively. Other institutions are beginning to reopen following last fall's hurricane and are hopeful that tourists and other potential renters are eager to get to the beach.
"Since last fall, we had quite a few hotels that were out as well as some of the larger restaurants," Wrightsville Beach Mayor Bill Blair says. "Blockade Runner came back up mid-February, and Oceanic, which is one of our larger oceanside restaurants, is back in business."
And, though there are still a couple of smaller rentals that have yet to reopen on the south end of the island, "all in all, the greatest proportion of hotels are open as well as the restaurants," Blair says.
Blair even notes that in April, during the Carolina Cup paddle race, the beach was "packed." It is partially because of the activity and involvement in these events that Blair is enthusiastic for the coming summer season.
"I think the trend is up," he says.
Carolina Beach also has been experiencing an uptick in reservations for the summer. Mayor Joe Benson says that he expects the upcoming summer rental season to be strong and noted that some rentals, units, and agencies have "already been booked out farther in advance than last summer."
The town, like Wrightsville, is gearing up for the summer, with some businesses and rentals using this time to ensure they are in compliance with county standards.
In addition to gearing up for the summer travel season, Benson notes that there were some positive changes to the town, such as the opening of the Island Greenway this spring.
And, having the "trend up" in ROT is important to these beaches, as the room occupancy tax (ROT) – tax on the rental of a room or property – can impact the restoration and upkeep of the beaches.
"It's a 6% tax, and half of that tax goes for advertising for all the beaches," Blair says. "That's where the first 3% of that 6% goes, and the second 3% percent goes to beach nourishment and local beach activities."
According to the New Hanover County Tax Department, 60% of tax's second half is given to beach nourishment. The remaining 40% is given to the Tourism Development Authority (TDA) to promote travel and tourism throughout New Hanover County, which includes creating local events.
The other portion of the collected occupancy tax goes to the TDA as well but is devoted to promoting travel and tourism to and assisting the needs of the unincorporated areas such as Carolina Beach Inlet, Mason Inlet, and Masonboro Inlet.
Though Wrightsville Beach experienced decreases in ROT collections from September to December, the area overall saw increases in ROT during the months following the storm as repair crews and emergency staffers came into the area.
Following Florence, Wrightsville Beach saw its year-over-year ROT shrink. However, following a 23.6% and 17.4% decrease in November and December, respectively, January saw a 9.2% increase. The ROT across New Hanover County has been on a slightly upward trend since. "In January, the ROT for Wrightsville Beach experienced a 9.22% increase.
However, in February, ROT collections decreased by 10.29% over last year," says Connie Nelson, spokeswoman for the Wilmington and Beaches Convention and Visitors Bureau. "We are hopeful that room occupancy tax increases for Wrightsville Beach will start trending upward now that Shell Island Resort reopened in March and the remaining Blockade Runner rooms (became) available later in the spring."
Nelson says that the increases in Wilmington, Carolina, and Kure beaches are most likely due to displaced residents and relief workers continuing to fill available rooms, along with leisure and meeting or convention visitors. There is no way for tourism officials to project ROT collections for the summer though, Nelson says.
As for how individual rentals are faring based on ROT, those tax collections are reported as a whole and are not broken down by individual properties. The ROT will vary from property to property depending on how much damage was sustained and how quickly the contractors were able to make repairs.
Rob Phillips, a manager at Sea Coast Rentals, says things got off to a slow start earlier this year, but as rentals owners began to make repairs and invest on upgrades to units, there has been a renewed interested in renting near the coast. Particularly, Phillips notes, March and April saw properties go on the market and sell quickly as well as new owners seeking out Sea Coast Rentals assistance in vacation property management.
"We do comparisons to previous years, and last month we were above in reservations," Rob Phillips said in April. "There still are a few lingering from the hurricane that are just getting the finishing touches done and are expected to be ready to go within the next week or two.
"Now we're over our reservation rate amount. So, we're doing pretty good; things are looking very strong. Just two months ago, we exceeded our reservation activity, and the month before we were just a little bit low."
Officials hope the momentum will carry into the summer season.
"Thanks, in part to the Wilmington and Beaches Hurricane Recovery and Comeback campaign and along with word-of mouth from residents and visitors who have traveled here in recent months since the storm passed," Nelson says, "the message is spreading that the tourism industry in Wilmington and our island beaches have made a remarkable recovery."
She points to a North Carolina post-storm perception study that was conducted in November and January. The study shows that the majority of out-of-state respondents who were planning or considering a trip to North Carolina indicated that Hurricane Florence has not impacted their current travel plans nor their future interest in travel to the coast.
"For these reasons, we believe that visitors are ready to return," Nelson says, "and many realize that the best way that they can contribute to our comeback is to plan a getaway to our area and share their vacation experiences with friends and family."
Editor's note: This article appears in the June issue of the WilmingtonBiz Magazine, a quarterly news magazine from WILMA's sister publication Greater Wilmington Business Journal. This month's issue includes the special sections Water Ways about the coastal economy, and Pulse, a look at the area's health care industry. Business Journal subscribers are mailed copies. For info on subscribing, go to wilmingtonbiz.com.
To view more of photographer Terah Wilson's work, visit www.terahwilson.com.
Want more WILMA? Click here to sign up for our WILMA newsletters and announcements.