A New Blueprint
Pam Fasse finds her own path in the building industry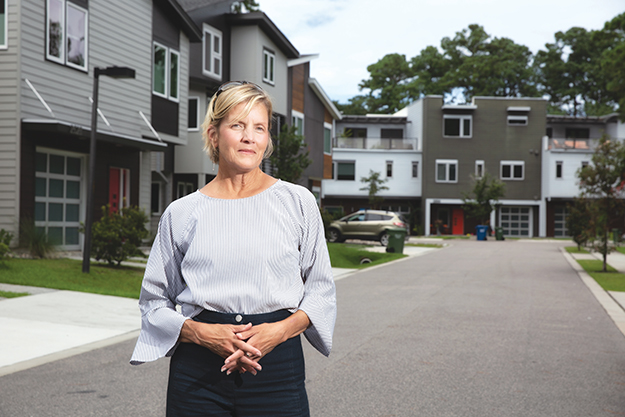 Pam Fasse, president and licensed general contractor for Fasse bldgs., says that she always gravitated toward project management and design in most any job she held.
"When I came here (to Wilmington), like I had similarly, I sort fell into (construction) I guess," Fasse says. "It was something I already understood and knew about. You gravitate toward what you're good at."
When Fasse and her family moved to the area, the housing market began appreciating, and the area was ripe for development after the extension of Interstate 40 to Wilmington. After about four years of working with a team on small residential subdivisions, she decided to begin her own company.
Growing up, Fasse watched her father, a jack-of-all-trades, regularly work on their family's houses. Having moved from the Midwest, Fasse's early influences of architecture include that of Frank Lloyd Wright, Ludwig Mies van der Rohe, and others, but her do-it-yourself genetics and studies of design are not the only influences she brought with her to the Southeast.
Now living on the coast, Fasse wanted to be especially conscious of the area's natural resources and unique climate by using new ideas and technologies that she became familiar with in the Midwest.
"I asked myself how I can create better buildings," she says. "My evolution came from wanting to bring that technology here, just to focus on bringing the kind of technological science that other parts of the country had already adapted, and because of that focus – that laser focus – in order to make that happen, it sort of informed everything I did."
Fasse just finished her master's degree in environmental engineering and has continuously studied building sciences, which greatly influence her designs and constructions. The company is creating neighborhoods and developments that limit the impact of the local land and environment – also known as low-impact development.
Fasse bldgs. limits the amount of impervious services, creates wetlands, allows less excess paving and enacts other measures to keep impact minimal.
"All that water that falls in that area stays on that land," Fasse says. "If that had been done from the very beginning, there wouldn't be any problems with stormwaters, one of the major problems in our area today."
As a building science expert, Fasse serves as the vice chairman for the North Carolina Building Performance Association. She has received awards in the Wilmington-Cape Fear Home Builders Association's Parade of Homes, and her most notable projects, small residential neighborhoods Tonbo Meadow and Midori, received sustainability awards.

"I strive to adopt efficiencies that will help the building to be cost efficient and energy efficient and lifestyle efficient," she says. "We have a very unique environment with our humid summers, but we also get fairly cold winters. It's a tough climate to build in."
The company embraces efficiency as a mythology for business, allowing environmental and fiscal conservation.
For example, the average home has an HERS (Home Energy Rating System) index score of 130, but Fasse bldgs. average 52 on that same index.
Although Fasse bldgs. has taken on some commercial projects, its president prefers to work on residential jobs.
"I like the personal aspect of a home," she says. "I like that people will be living there. I think that (our environmental focus) is equally important in commercial building, but people don't live in their offices."
Fasse stays personally involved with her clients throughout the whole process. In fact, even after the Tonbo Meadow homes were sold, she became involved with attempts to resolve drainage issues near the wetlands.
"I felt I had an obligation to the homeowners," Fasse says. "And in the end, the city repaired their side and helped with remediations for those wetlands."
In addition to working on several single-family homes, Fasse bldgs. continues to consider new environmentally sustainable projects, including one development its president is excited about but can't publicize until details are more final.
Furthermore, as part of her master's degree, she studied workforce housing and has begun conversations with Habitat for Humanity about partnering on a project.
"I'm trying to be sensitive to the needs of the community," she says. "As developers, we have to lead by our own values and ideas and hopefully build communities."
Editor's note: This story recently appeared in the annual Women in Business edition of the Greater Wilmington Business Journal, a sister publication to WILMA magazine. To read the rest of the section, go to wilmingtonbiz.com.
To view more of photographer Chris Brehmer's work, go to chrisbrehmerphotography.com
Want more WILMA? Sign up for our WILMA Weekly email and announcements at WILMAOnTheWeb.com.