A Natural Beauty
Wilmington companies focus on organic product lines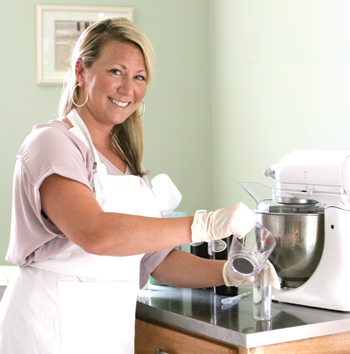 Local business owners have been getting Wilmington in touch with its natural roots, one bar of organic soap at a time.
"I don't want soap that just looks pretty and smells good. You can get that anywhere," says OUT OF EDEN owner CAROL CROW, who sells handmade, organic soaps through her Wilmington business. "I want soap with a purpose."
As organics remain a growing part of the health and beauty product market, a number of Wilmington companies also have tapped into the niche.
REBECCA PASTORE, co-owner of CAREFREE ORGANICS, which launched this year, recalls that she and her husband were searching online for a natural alternative hair product when they were surprised by the price tag.
"I thought he was crazy for suggesting making his own (hair products), but one thing led to another, and before I knew it, I was formulating and testing body and face creams and loving it," Pastore says.
Carefree Organics started out of the Pastores' Wilmington home.
"We were tired of searching for the safest products for our little boys and ourselves and finding either hidden preservatives in even the natural brands or find ourselves paying an arm and a leg for something we felt we could (make) just as well if not better," Pastore says.
Carefree Organics' online catalog includes organic and preservative-free products for the entire family. Some of their popular products, Pastore says, are a 3-in-1 Eco Acai Scrub, Prime Protection aluminum-free deodorant, Flawless Face wash, Baby Bliss cream, and Radiant Repel bug spray.
Organic soaps also can help with dry skin, acne, and other skin problems, Crow says.
Out of Eden is a local line of organic bath products including soap, bath salts, lotion, and laundry detergent. Products are hand crafted and sold at local retailers.
Crow founded Out of Eden in 1999, in what she says began as a fluke. After majoring in horticulture at North Carolina State University, Crow used the herbs growing out of her own garden to make soaps for people.
"I made 600 bars and gave them out to people for free," Crow says. "People started calling me to buy them. It was not a planned business."
Like Crow, many other local businesses that create and sell their own organic skin and hair products have also just ended up on the professional side, naturally.
GAYLE TABOR and JENNIFER BEDDOE looked more into organics after their dog, Franklyn, died from what they believe was because of a topical flea treatment.
What started as an initial product for all-natural dog soap has grown into a full line of organic bath and body products for people as well.
"We started out with a tragedy by using a chemical pesticide, so using a natural product without harmful side effects seemed like a natural (fit)," Tabor says.
Tabor and Beddoe founded GLYNNE'S SOAPS in 2008 and has since relocated near Carolina Beach.
"I think it's important to have a local market for anything," Tabor says.
"We're supporting our local economy. We live in a beautiful area, and harmful products can create problems in our environment."
To view more of photographer Kristen Corley's work, visit
Comments
comments