A Manna for Every Mood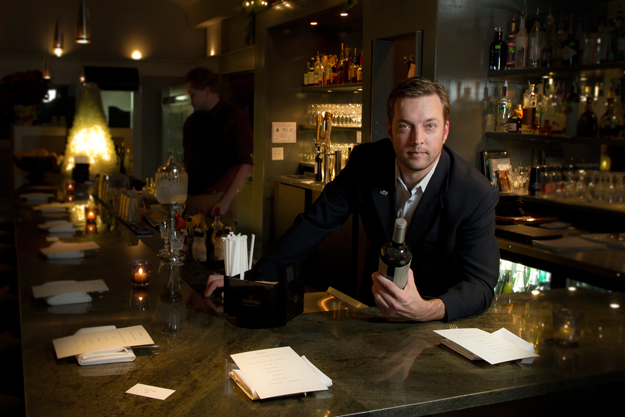 Being both innovative and accessible has earned modern American downtown restaurant Manna its rightful place in Wilmington's ever-evolving fine dining food movement.
"Right now, the food world, and life in general, is at a really weird point. There's a real movement across the board," said executive chef Jacob Hilbert. "We have very similar visions and we want to offer this blending of traditional ideas with modern philosophy."
Hilbert and fellow proprietor Billy Mellon recognized their like-mindedness while working at former culinary hot spot, Tango du Chat, which is now home to Manna at 123 Princess Street. It opened in November 2010. And, once again, Hilbert commands the kitchen and Mellon runs the front of the house. More than just a restaurant, the pair sees this venue an opportunity to share their culinary values.
After months of creating an inviting space and establishing a simple-but-imaginative menu with seasonal entrées and fun dishes like the Beet Box Salad and the Dessert Happy Meal, they turned their attention to other details.
Part of that was organizing the School of Fire, an Iron Chef-like competition for local sous chefs that was held in October. Another was adding the pop-up restaurant concept, a trend that has hit larger metros from New York to L.A., to the Manna experience.
"We looked at those quick little pop-ups that were happening," Mellon said. The occasional one-night restaurant called Canape ILM that "pops-up" at different locations is an example.
"We thought 'Why not have a pop-up here every Thursday night?'" he said.
Every Thursday night at Manna's bar, Hilbert offers an inexpensive small-plate menu inspired by a different monthly theme such as, writers, painters, great American restaurants.
"I have to give Jacob credit," Mellon said. "He's created so many of these, something new each week." With that success, Mellon added a Wednesday 'Winesday,' with a low-cost wine tasting that includes a glass of your favorite, which capitalizes on Mellon's experience in the wine business.
Next came Beggars Can't Be Choosers on Sunday, a concept for adventurous eaters. The bar menu includes categories such as, "vegetarian," "scallop," "duck" or "mystery." You select a category and the chef creates you a custom meal. On one recent evening, the dishes were $7 and the bar offered beer and wine specials, as well. "For us, it's a way to offer Manna-quality food, but it's more affordable," Mellon said.
Hilbert says it's a way to continue his culinary creativity. "I like to go out on a limb," he said. "At other restaurants, in the past, I've done duck bubbles and lamb volcanoes. Now, I've brought it back, closer to the trunk." But he still likes to offer something different and is excited that this can be a way for people to experience his food for the first time. "Great food doesn't need to be a gilded lily," he said. "And it belongs to everyone."
Look for more at the restaurant in the New Year. Manna hopes to play up its talented bar staff with a speakeasy night, featuring retro cocktails.
"We're versatile," Mellon said. "It's like there are multiple restaurants operating under Manna."