A Higher Calling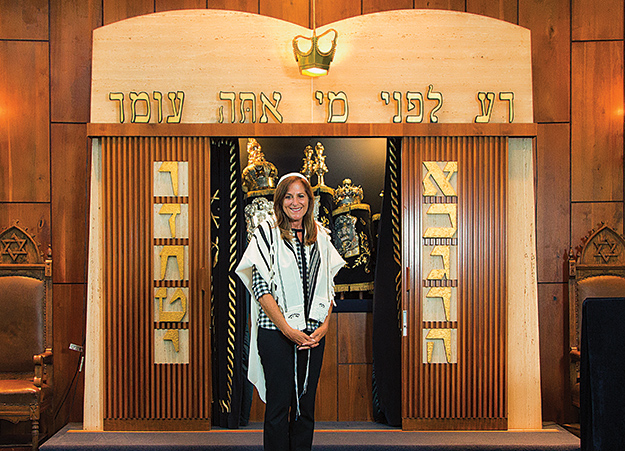 The first female rabbi in Wilmington and first Jewish spiritual leader in southeastern North Carolina began her position on July 1. RABBI JULIE KOZLOW succeeds Rabbi Robert Waxman who retired from the B'nai Israel Congregation conservative synagogue after a thirty-four-year tenure.
Kozlow comes to Wilmington after serving Congregation Beth Israel in Greenville, South Carolina, for seven years.
"For me the rabbinic is an absolute calling. It is just who I am," Kozlow says. "It never really looked possible, and I just refused to listen to people who said give it up."
Being in the ranks of female clergy is challenging in some ways, Kozlow says. But she feels blessed to be living more of her dreams than she thought possible.
"Female rabbis are increasing," she says. "One day our children's, children's children will have no idea that there was any valuable difference between men and women. We live at a time where men and women both have a chance to step onto the stage … To be the person who was hired to represent that change is something I cherish. I feel so blessed to be that person."
Kozlow had been a teacher of Judaic studies, a mother, and a support for her husband at the time in his career goals. Each of her three children was born in a different country as they moved around for her husband's career.
She was well prepared for globetrotting, having been raised in a world-traveling family. She is the third in a family of four girls whose father was an artist. He made a living painting scenes all over the world and eventually settled the family in his hometown of Detroit. Kozlow's travels gave her special memories of places such as Florence and Jerusalem.
When Kozlow returned to her studies at age forty, she was a single mother working several jobs and raising three adolescents. Yet she graduated magna cum laude from the American Jewish University in 2000 with a bachelor's degree in Judaic studies. She pushed on to earn two master's degrees in rabinnic studies, one from the Ziegler School of Rabbinic Studies and the other from the Academy for Jewish Religion California, where she also received ordination in May 2007.
"With the birth of my first child, that was the day I felt I met God," Kozlow says. "I knew then – life is not random. Life is utterly purposeful, and everything matters. We are each called to figure out what we have been called to do and then go about doing what we are asked to bring about, improving life and our planet.
"We are all part of one story. We are all part of one family. There is no separation except in our minds. If everyone felt they had something specific to do and set about doing it, what a different world it would be."
Kozlow sets out on this part of her journey in the B'nai Israel Congregation, serving 130 families of all ages and backgrounds, native Wilmingtonians, and transplants.
"It's an impressive congregation. They know what they want and need and set out to find it," she says.
And the rabbi knows what she wants. When asked after a week on the job if she has goals, she gives an oh-yes look.
"To create a sacred community, which in our times means something different than twenty, thirty, forty years ago," she says. "Each congregant has a different experience. I have to serve people with all different expectations. Being aware of that, I realized I have to create a place where everyone feels welcome, regardless of what their background is. We have to find a common denominator. For me that is spiritual and a creative vision of how we can walk into the future … My goal is to hold on tight to the traditional while allowing for creative contemporary expression. "
One thing that attracted her to these congregants is that they had rabbi Waxman for many years, and they see a rabbi as an integral part of the synagogue. Kozlow wants to create a sense of teamwork, a vision to work toward, while remaining flexible. She likes the size of the congregation and feels fortunate to have Anyta Ledbetter, a longtime secretary for the congregation, who can be her window into their world while she finds her way.
"We live in very different times. A rigid plan will not get you where you want to go. Bend like the willow," Kozlow says.
In her spare time, Kozlow loves to be outside at the beach, paddle boarding, kayaking, or running. She's also writing a book, but that focus will have to wait until things settle at work.
"When I was driving here from Greenville, I felt I was heading home," she says. "My life has been a wonderful journey of heading to a place that I didn't know where it was but knew what it felt like. Something about arriving here – it feels like what I thought it would feel like."
To view more of photographer Chris Brehmer's work, go to www.chrisbrehmerphotography.com