A Handy Holiday Survival Guide
December Men's Room column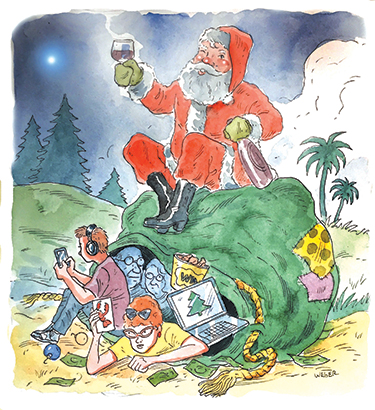 In every mall, grocery, and drugstore across this great land, speakers again ring with familiar ditties of relentless cheer. It's almost upon us: the season we most want to love but most of us dread.
First, the public is warned of impending arrival: "Only 127 shopping days until X-mas!" Alarmed, we run to crowded stores to stock up on provisions then spend days at home stuffing ourselves with food and booze. Before its arrival, we're stressed and anxious. Once it's over, we're exhausted and broke, and the house is a wreck.
For more fun (and less dread) this Christmas, check out these handy tips:
1. I'm Dreaming of a White Lies List: Have excuses at the ready in case unwanted family members attempt a last-minute visit or overstay their welcome. Casually say, "I'm sure we'll have this bed bug infestation sorted out before you arrive." If that doesn't do the trick, you might casually remark, "The doctor says it's MRSA, but I don't really trust conventional medicine" or "Frisky's incontinent these days, and we're spending a lot of time on the porch, so be sure to bring lots of layers." Feel free, of course, to customize white lies to appeal to the specific phobias of particularly annoying kin.
2. Decorating Made Easy: Forget those complicated and expensive home displays with their computer-synchronized lights and music. Instead, try one of two easy themes. Go classic with A Peanuts Christmas and simply buy the sparsest, most pathetic excuse for a Christmas tree you can find. Or, for an edgier option, try The Nightmare Before Christmas theme and simply leave up your Halloween decorations.
3. No Limits: Forget the usual restrictions on screen time. Every second your kids spend zombified before a screen is a second they're not badgering you. Use that time to wrap a present. Or, to grab a quick nap. Or, a quick nip. Whatever you need to make it to January.
4. Money Money: Give each of your children over the age of five exactly one present: an envelope full of cash. It's what they really want anyway. And, think of how much time you'll save; all your shopping done in one trip to the drive-thru ATM. If you're worried about ruining the magic of the Christmas, just tell your kids that Santa hit the Powerball.
5. Shopping for Men Made Simple: Men are easy to buy for as long as you give them what they want instead of what you want to give them. Here's one easy gift idea: Create certificates excusing your man from usually obligatory family commitments. When he's eating chicken wings, drinking an IPA, and watching college hoops instead of suffering through your niece's violin recital, he'll raise a glass in praise of you and St. Nick.
While this list is far from exhaustive, maybe it could be a few baby steps toward a different kind of Christmas this year. One you might actually enjoy. Merry Christmas!
Dylan Patterson is a writer and filmmaker who teaches English at Cape Fear Community College.
To view more of illustrator Mark Weber's work, go to markweberart.blogspot.com.
Want more WILMA? Click here to sign up for our WILMA newsletters and announcements.