A Garden Tour
Ceramicist Traudi Thornton to show at Art in Bloom this month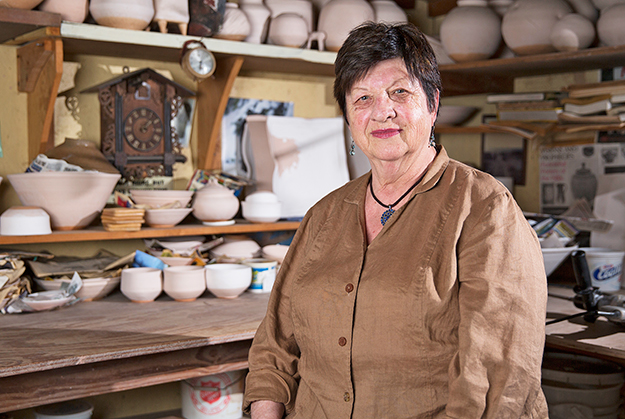 TRAUDI THORNTON is a ceramicist, but she didn't want to talk much about that. She shows me her rosebush and newspaper clippings of her rescue dog, Silas, who was found with a couple broken legs and only half a tail; the other half, she says, is somewhere alongside Interstate 40.
Just as the finch that dwells in a custom-made clay birdhouse hanging in her backyard instinctually hovers over her eggs, Thornton broods over her garden, landscapes, the weather, and animals she's seen in her travels with fondness. It's not that pottery isn't her life's work and passion – one glance in her home/studio and it's clear that it is – it's a matter of the way she thinks of herself as an artist.
To Thornton, her true calling is nature and her work is a product of the connection she has to it. It's no wonder that after she dabbled in music and other mediums of art, she knew she was home when she first worked with clay.
"I like that clay comes from nature, and there is an endless supply of it," Thornton says.
This week, she – along with artists Elizabeth Darrow and Susan Francy – has an exhibit opening at the ART IN BLOOM gallery in downtown Wilmington. The "Full Circle" show runs though September 30.
Thornton was born in the Czechoslovakia but grew up in Germany. As a middle child, she entertained herself in the outdoors while her mother was busy tending to her little brother. She came to the United States in 1965 where she attended school for art in Omaha, Nebraska.
It was there that she learned about Raku, a style of pottery that Thornton has maintained an intimate working relationship with throughout her career.
Traditional Raku was used in Japanese tea ceremonies. Western Raku later adopted the Japanese method of using low-firing temperatures and removing the piece from the kiln while it's still piping hot. Unlike other types of ceramics, the results are immediate. It's the instant gratification (or not, as she says you can also see the areas you neglected or where you messed up) that makes the process of Raku particularly exciting for Thornton.
"I always loved nature, so I thought the next best thing would be to study something related," Thornton says.
Opening Night

Exhibit opening event for:

"Full Circle: New Art by Elizabeth Darrow, Traudi Thornton, and Susan Francy"
When: June 3, 6-9 p.m.
Where: Art in Bloom Gallery, 210 Princess Street
Featured music by Rebekah Todd
More Info: aibgallery.com
And her study goes far into the science behind Raku. She understands the chemical compounds of clay and how to regulate the amount of oxygen in order to manipulate the color. Without trying to make it too complicated but emphasizing the intricacies involved in the process, Thornton says that oxides are added for the color effect, and each oxide reacts differently depending on one or two degrees of heat.
Thornton spent years as a teacher as well. She taught ceramics in Germany and at Cape Fear Community College. She received a grant to travel to rural schools in Southeastern North Carolina that had little budget for art supplies and teach students ceramics.
She has lived in a Cape Cod-esque bungalow in midtown Wilmington for over thirty years. After finishing a cup of coffee at her kitchen table surrounded by her stoneware plates and Raku ware tiles, the three of us (Thornton, Silas, and I) migrate to her backyard. We take a brief stroll though some of nearly an acre of trails through lovely garden plots, stopping as she refills a stone birdbath and points out the still-damp finch that had earlier been bathing. Along the short walk to her studio, I ask her why she had stayed in Wilmington for so long. She matter-of-factly answers, "Because I'm a potter, and it's easier to die than dissolve a studio."
When we entered the structure out back that is her studio, I understand this was no joke. There were walls and walls of shelves stacked with rough pots, bowls, and plates waiting to be glazed and put in the kiln. Tables were stacked with chemicals and packets of materials I didn't dare ask about. Her modest pottery wheel sat in the far corner. It appears to be a lifetime of work, but it's only her recent projects. As she explains her process, and I take it all in, the studio, that had at first seemed crammed with stuff, appeared surprisingly organized and methodical. As a breeze wafts thought the rafters, carrying the smell of roses, it also seemed very "her".
Thornton's upcoming show will be opening at Art in Bloom. Included will be a mix of her stoneware and Raku wear.
To view more of photographer Chris Brehmer's work, go to www.chrisbrehmerphotography.com/