A Family Affair
New dining, family style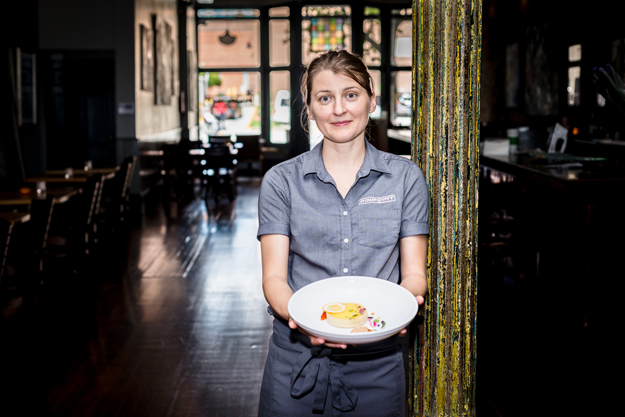 ​Wilmington is full of small, independent eateries, but PinPoint and Beer Barrio are two new restaurants that involve women and their close loved ones.
LYDIA CLOPTON, whose fiancé Dean Neff opened PINPOINT in May as executive chef, works alongside him, bringing her award-winning dessert expertise to the menu. BEER BARRIO opened its doors in June and is run by HAYLEY JENSEN along with her husband, Stephen Durley, and mom, Carol Jensen.
Tasty Pastries
"Baking was always a hobby," says PinPoint pastry chef Lydia Clopton (shown above). But after graduating with a degree in biology, Clopton did not expect to end up baking for a living.
At age twenty, Clopton moved to Athens, Georgia, where she ran a wedding cake business out of her house and worked at restaurant Five and Ten.
"I was lucky for the position," says Clopton. Hugh Acheson, a James Beard Award-winner for best chef who owned the restaurant, supervised her.
​Clopton is now living in Wilmington where her fiancé, Dean Neff, opened PinPoint restaurant at 114 Market Street. Here, Clopton is once again following the area of her expertise and offering her pastry baking skills. The restaurant has a focus on making Southern cuisine with local food sources.
"We see a lot of each other, but we work well together," Clopton says about working with Neff. Since the nature of the restaurant business is time consuming, Clopton is thankful to be working with her fiancé at PinPoint.
PinPoint has been consistently busy, which exceeded their expectations since leaving their most recent location in Asheville.
"We just moved here in February, so it was hard to know what to expect," Clopton says.
Though Wilmington's restaurant business is growing quickly, she says, "Wilmington is kind of at the beginning" of its growth and is less demanding than what the couple was used to.
Some of the desserts on the restaurant's menu have been a flourless brownie sundae – its number one seller – a fig tart and one that was only going to be a temporary offering.
"I put the key lime pie on the menu at the beginning of the summer because my dad was coming to town," Clopton says, "but it's been so popular I haven't taken it off."
All in the Family
Beer Barrio co-owner and beer sommelier HAYLEY JENSEN (shown left) says that being in the restaurant business was her life's calling. In high school, she worked at a drive-thru, then become a server, bar tender, beverage director, and now she is co-owner of a business where she gets to focus on what she truly knows and loves – beer.
Along with offering a full bar, this 32 North Front Street restaurant also offers Mexican food that pairs great with its drink options. The cuisine appealed to Jensen after she came to love the culture while studying abroad in Mexico.
"A lot of Mexican restaurants don't have the best craft section," Jensen says, who has spent time traveling the world sampling beers and worked as first beer sommelier for French chef Daniel Boulud.
She wanted to open a place that had the fun and celebratory atmosphere that is part of Mexican culture, while also being able to educate customers about beer.
Jensen's husband, Stephen Durley, and Jensen's mother, Carol Jensen, also own the restaurant. Durley is in charge of the kitchen, and Jensen manages the front of the house. Carol Jensen did the decorations back when the restaurant opened in June, and now manages on the days Hayley doesn't work.
"She's a great sport," says Jensen about her mom. Though the decorations probably won't change often, they are expecting that Carol, who they sometimes call "Christmas Carol," is planning some extravagant temporary décor changes for the Christmas season.
Hayley Jensen and Durley started working together almost seven years ago in New York City. Jensen says it was tough the one year they worked at different restaurants because it was hard for them to find time for each other outside of work.
The couple finally decided to move to North Carolina after visiting for vacation.
"We fell in love and decided to take the leap," Hayley Jensen said about Wilmington and it's up-and-coming beer scene.
She says her experience with working in fine dining in New York City is vastly different from her experience thus far in Wilmington, but overall, "people are people and just want to have a great meal and a good time."
Hayley Jensen says the one thing she really wants people to know about Beer Barrio is that it is meant to be a place where people feel comfortable to hang out and get a drink. Even though Beer Barrio is a restaurant, Jensen says she's spent a lot of time specializing the beer selection and wants to show off that aspect of the restaurant as well.
To view more of photographer Erik Maasch's work, visit websta.me/n/emaasch