A Fabled Dance
Dancer and choreographer Karole Armitage talks to WILMA about her upcoming performance at UNCW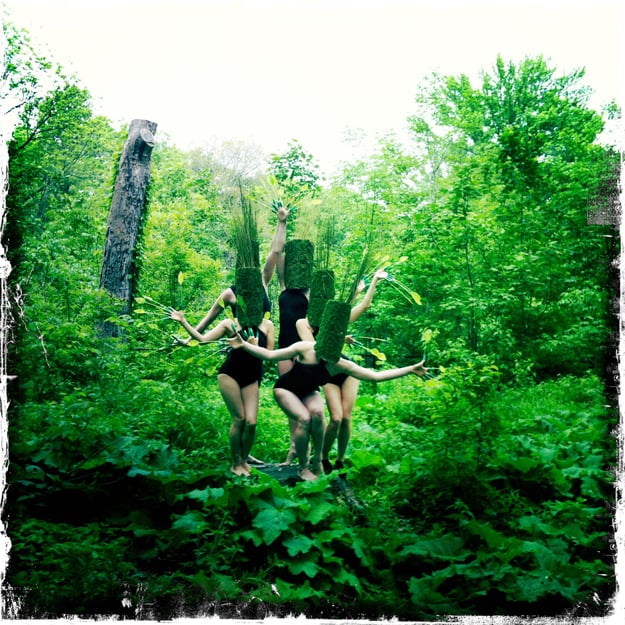 Dancer and choreographer Karole Armitage, who early in her career earned the moniker "punk ballerina," will bring her troupe to University of North Carolina Wilmington for a residency Oct. 21-26. On the 26th, New York-based Armitage Gone! Dance will present the choreographer's newest work, Fables on Global Warming, in Kenan Auditorium at UNCW.
Armitage began her private dance studies at the age of four, moving on to the N.C. School of the Arts as a teenager and from there to the School of American Ballet. Her distinguished professional career has developed both in Europe and in the U.S.Reached in late September as her troupe was in rehearsals for the premiere of Fables, the Tony-nominated dance innovator talked with WILMA about her career and her overall approach to dance.
W: You were trained in classical ballet, but your own choreography is non-traditional and pushes boundaries. How does your training influence the works you create? I first danced with George Ballanchine in Geneva [Switzerland]. Then I danced with Merce Cunningham, which was modern dance. I wanted to put the two conceptual ideas together with something of my own. It was the late 1970s and punk was the next wave. Rock and roll had become completely corporate, boring and banal. Punk infused new energy and communicated in a direct way with simple means. It didn't need a lot of equipment; it was just pure ideas and emotion.
Meanwhile, dance had become completely intellectual; it had lost relevance to people's lives. I wanted to bring passion and a rock and roll spirit to it that would be contemporary and reflect my experience: something that was raw and wild that came from the rock and roll side, but with the refinement, precision and poetry of ballet.
[Armitage Gone! Dance dancers] are all classically trained and do things with great articulation and the highest virtuosity, but with a daredevil spirit. It's not a pretty art form.
What's important in dance is the need to find your own voice. You're writing with the body. I work in contradiction: my work has multiple elements even within the same phrase, the same piece. It's about the internal experience of consciousness, the experience of being alive.
W: You've spent much of your career with European ensembles. Is there a difference, for you, between European and American dance philosophy and aesthetics? Are European-trained dancers any different to work with than dancers trained in this country?
There is a great dialogue between American dance and European dance. It goes back and forth as to which is the leader and which the follower. In the 1950s-1970s, American dance was generating big ideas, but in the mid-1980s to early 1990s that really shifted, and American dance became much more conservative and conventional. In Europe the exact opposite happened. There was lots of government funding, which allowed dance to become very experimental. In Europe, most new ideas [in dance] are embraced.
What they've done in particular, these big institutions –all these important, quite beloved institutions that are several hundred years old – they have taken a leadership role in fostering young, interesting new work. Institutions have provided leadership in keeping things fresh and interesting, while preserving the tradition.
Europeans know that art is about evolution of ideas; otherwise, only gray heads will be in the audience. They like dialogue with ideas: some things are terrible, but exciting to articulate. They are using movement and space to look like today's world. It requires very rigorous training and a very articulate body.
Because of government support, dancers in Europe have a middle-class salary and can be a more complete human being [with a family and other interests]. That's often not true in the United States.
W: Talk a bit about Fables on Global Warming, the work your troupe will perform at UNCW.
Fables on Global Warming is a kind of departure for me. It is basically storytelling; everything from Aesop to Chinese tales, all about 2,000 years old. These are stories told by animals but written for the ruling class, explaining how to use power wisely. [The stories] include implicit metaphors that relate to climate change: we have choices to make that will maybe let us change course and not dominate nature but be part of nature.
The fables are told in a witty, charming, delightful way with lots of props and puppets inspired by Asian traditions. I wanted to find a way [to address problems] that is not lecturing, not doom, but presenting ancient ideas about ethical choices. It's entertainment and reflection.
[UNCW's assistant director of cultural arts] Courtney Reilly is sensitive in thinking about the community and how arts can engage with the community in a meaningful way – not just having a show coming through. She has arranged two performances for us before children. I'm very pleased to be coming.
W: When your dancers perform, do you hope to leave your audience with a specific emotional response or do you just put the work out there?
To a certain extent, I let the chips fall where they may. All you as a choreographer and dancer can do is to offer a dialogue with people in their seats. I never tell people what to think and what to feel, but hope that maybe they see something about their internal life there on the stage. Personally, I'm always excited when I see new ideas; I feel more alive. I'm hoping to make other people feel more alive.
W: What's a typical month or year for you?
Every year is different. Sometimes there's a little less travel. This year, because we were preparing for Fables, a very complex piece requiring long rehearsal periods, we have been doing residencies and workshop-like performances but not long tours. Other years, we do long tours. Sometimes we're doing opera; sometimes just dance. Sometimes we're in Europe; sometimes in the U.S.
As a dance company, you not only work incredibly hard to get what you get, but you have to reinvent yourself constantly. Every year I rethink, leverage every contact, and apply for grants, although grants are a tiny part of what we do.
Fables on Global Warming will be performed at 8 p.m. Saturday, Oct. 26 in Kenan Auditorium. For tickets, call the Kenan Box Office at 800.732.3643 or 910.962.3500. Click here for more info.