Normal, Please
April Men's Room column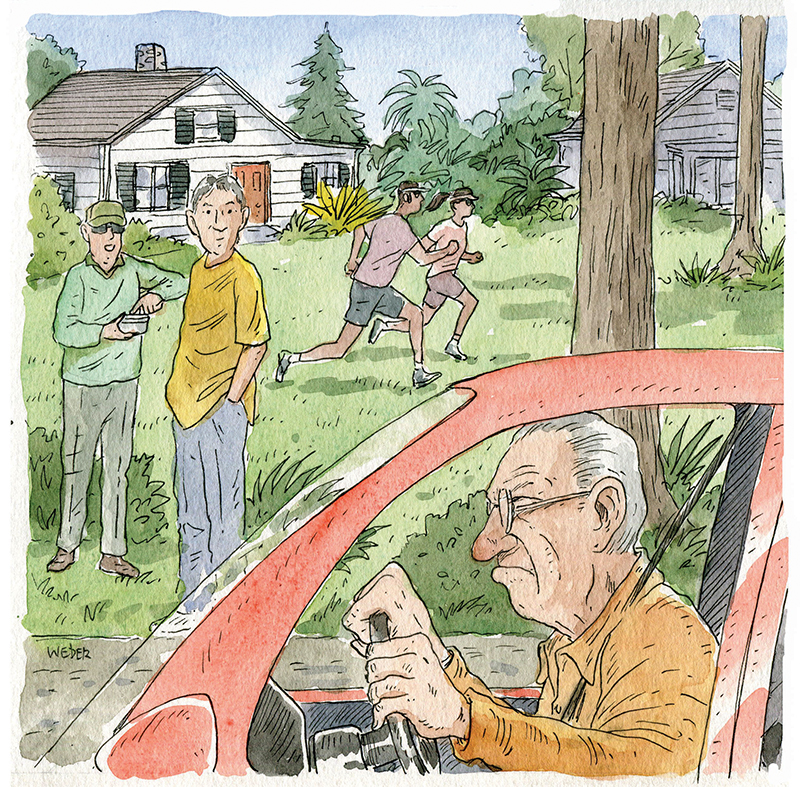 It's April? Springtime? Seriously?
Yee-haw for us. Finally, we can throw a party.
No, scratch that. It's way too soon to cut loose.
Still, hope springs in April. Winter is over. People are getting vaccines. Soon, maybe – just maybe – we'll return to what we might remember as normal.
Meanwhile, I just want to take a walk. I'd like to get into the fresh air and sunlight for the first time in months, strolling across new grass while the first flowers of spring poke up from the softening ground, reaching for the sky after a winter in hiding.
Yes, I know I could have gone outside plenty in the past several months. After all, the COVID shutdown hasn't ruled out neighborhood walks. But, the weather has, at least for me. I'm the coldest-natured person I know. As I write this, I'm wearing a sweatshirt over a T-shirt, furry slippers over thick socks, and a wool ballcap over my thinning hair, all while a space heater runs full blast a foot away.
In six months, the closest I've come to nature is when the guys replacing my heating-and-air system ran across a sleepy, chilled snake in the yard. Even then, I didn't go out to inspect. That would have meant moving away from the space heater.
Now that April has arrived, I'm anxious for change, especially the kind that feels familiar.
When I walk, I tread the street shoulders because my community doesn't have sidewalks. I'm rearing to get back out there, trekking against traffic and once again seeing that certain geezer, the guy who has nothing to do in retirement but nonetheless drives everywhere all the time. I've missed that fossil in his fancy car, wide as a parade float, heading toward me at 13 miles per hour. It's been too long since I've seen his scrunched face as he chokes the steering wheel and rages against me. He and I have never spoken, but I can tell that he believes pedestrians belong in the woods or on golf courses, not anywhere near the streets he pays for, personally, with his taxes.
I want to make him ease over a couple of inches. It'll be my way of saying, "Hello, old dude. Welcome to springtime. Isn't it great being outdoors again!"
He'll hate that.
Farther along, I hope to run into my friends Rudy and CeCe, back out for another season of powerwalks and let's-talk-while-moving-if-you-can-keep-up chats. Looking fit and energetic as ever, they'll say modestly that they've been cooped up, unable to stretch their legs since who knows when. When I veer off to a side street on my wimpy little loop, they'll press on to their target turnaround spot in the next ZIP code. They'll be gone for hours.
Rounding back into my driveway, I'd like to see my next-door neighbor, my buddy, out getting some springtime air. Maybe, finally, he'll wear something different than the octogenarian uniform he's had on since September: green sweatshirt over green knit top over olive khakis over brown deck shoes. He looks like he's in the senior citizen military, camouflaged like the suburban shrubs as he checks the weather forecast twenty-five times a day, snags the mail the instant the truck arrives, and brags on the deal he got on chicken salad at the supermarket.
Give me what used to be normal, please.
It's April. Seriously. It's time.
---
Tim Bass is coordinator of UNCW's bachelor of fine arts program in creative writing.
---
To view more of illustrator Mark Weber's work, go to markweberart.blogspot.com.
Want more WILMA? Click here to sign up for our WILMA newsletters and announcements.