2019 Leadership Accelerator Recap
WILMA's annual half-day women's conference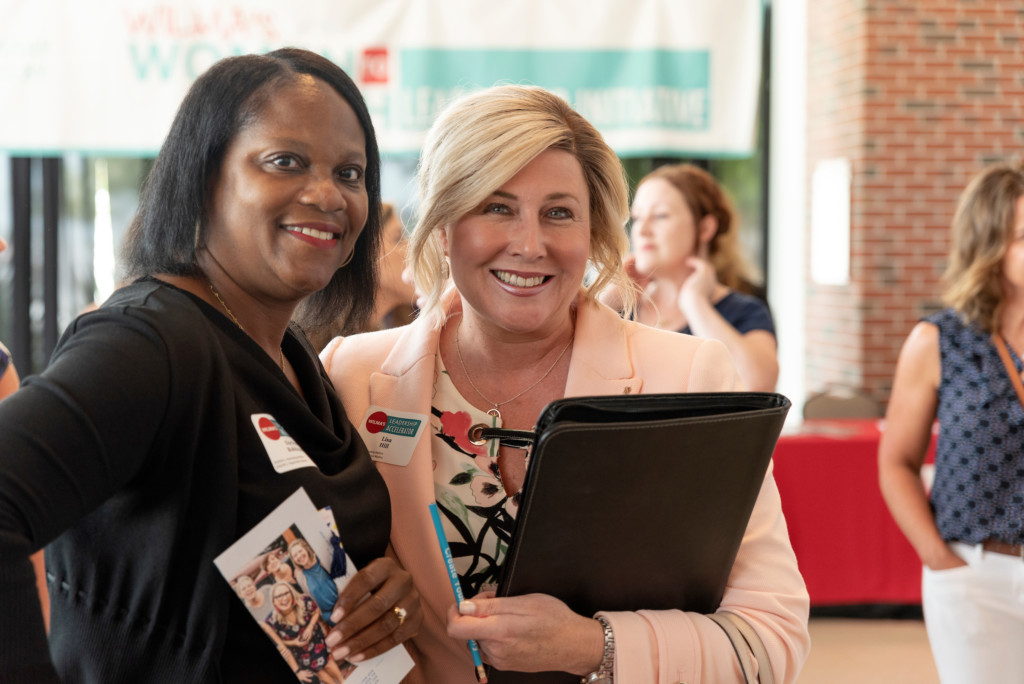 WILMA's 2019 Leadership Accelerator event this July had over 400 women from across the Wilmington region in attendance. The event took place downtown at the Wilmington Convention Center on July 18, and consisted of a keynote speaker lunch, four seminars, and a networking hour to end the event.
This year's keynote speaker was the accomplished and entertaining Sheri Lynch, co-host of The Bob & Sheri Show. Lynch spoke on getting her start in broadcast, becoming co-host of the radio show, and most recently becoming owner of the nationally syndicated show. Lynch shared advice on gaining confidence to ask for what you want in your career and going after your dreams. For Lynch, that dream was owning the licensing to her name and her show. Lynch opened up to the audience and shared the long process she went through to acquire the rights and become her own boss.
Lynch said she wished for both the women in the audience and those unable to attend to remember that they are powerful, even if they are the only woman in the room, and can use their empathy to their advantage. "What's the worst that can happen? I don't get this deal?" she said.
Another opportunity will present itself, she said, advising women to keep pushing and not get discouraged.
The event gave attendees the option to choose two of four unique seminars to participate in. Those seminars included Get on Board – Nonprofit Board Training, Negotiation Mastery, Social Media Do's & Don'ts, and Motivating Matters. All seminars were led by influential and successful area women based out of the greater Wilmington area.
Nonprofit board training proposed that joining a board of directors not only serves as a form of philanthropy but also as a step towards becoming a community leader. Speakers Natasha Davis (Director of UNCW's Quality Enhancement for Nonprofit Organizations) and Tracey Jackson (Owner/Certified Personal Resilience Practitioner, u-nex-o!) shared advice on how to get started and make the most of joining a board. They suggested that candidates for a board position clearly understand the board's expectations and how much work will be involved.
The Motivating Matters panel including Stefanie Adams (Training and Development Manager, CastleBranch), Kristy Hubard (Chief Strategy Officer, New Hanover Regional Medical Center), and Linda Stinson (Owner/Partner, RLS Focused Solutions) gave tools to motivate and inspire others. They shared that everyone is motivated by different things – so they encouraged the audience to ask themselves, "What motivates you today?"
In Regina Fisher's (Business Broker, The Bristol Group) Negotiation Mastery seminar, attendees were encouraged to open their minds to new strategies for negotiation and had fun perfecting their "power poses."
In Social Media Do's and Don'ts, Jenna Curry (Owner and Digital Marketing Strategist, Remedy Digital Agency, LLC) gave attendees tools and tricks for digital marketing.
The event wrapped up with a networking hour – an opportunity for attendees to make professional connections and reflect on the various topics discussed.
"This year's Accelerator was a huge success!" said WILMA Director of Events Maggi Apel. "Attendees gave feedback that they walked away with new leadership skills and new inspiration to assist with developing their careers. This WILMA event supports our mission to help develop more women leaders in our region."