2015 Women to Watch Award in Public Service
Q&A with Public Service category winner Avril Pinder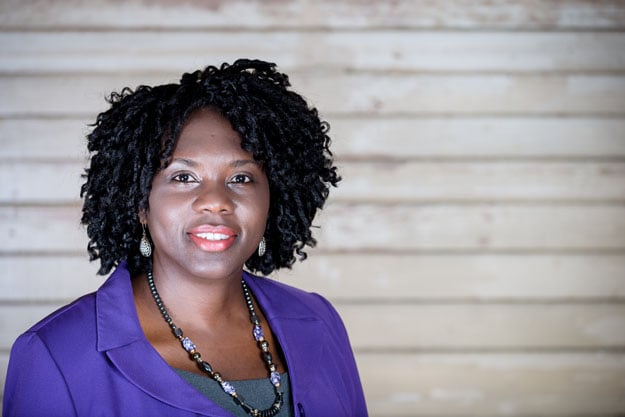 The 2015 WILMA's Women to Watch Award winner in the Public Service category is AVRIL PINDER, deputy county manager for NEW HANOVER COUNTY.
Recently promoted to her current position with the county's government, Pinder joined New Hanover County's management team several years ago. She was named assistant county manager in 2012. Before then, she served as the county's finance director, with a background in municipal budgets having worked previously as assistant finance director for the city of Jacksonville. But the new role expanded her scope, supervising other departments such as elections, information technology, and health and human services, while still having a role in tax and finance.
During her time with New Hanover County, she has helped the county secure its first triple-A bond rating – the highest credit rating a county can get – followed again in 2013 and this year.
In the community, she has served on the United Way of the Cape Fear Area's board, including as chairwoman, and is on Wilmington Hammerheads Youth's board. She serves as a board member for the North Carolina Government Finance Officers Association and was an original member of the association's Black Caucus, mentoring young finance professional.
WILMA: What inspired you to pick the field you're in now?
"I fell into local government in 1995. My husband had orders to Camp Lejuene, and we came here intending to stay three years and then on to our next duty station. I took an entry level job with the City of Jacksonville, again planning to stay just three years. In that three years, I was promoted twice and was the assistant finance director with a large scope of responsibilities."
"The decisions we made directly impacted people's lives, and I wanted to make sure it made their lives better."
"In additions to my duties in finance, the city manager appointed me as the community development administrator, overseeing the city's affordable housing program. The work involved with this program is what kept me in local government. I had the opportunity to teach residents how to build wealth through homeownership and how to begin building a better life for themselves and the next generation.
It was truly satisfying work. I knew I wanted to go beyond governmental finance into management and policy setting."
Are there any mentors or role models, famous or personal, you've looked to in your career?
"On the finance side of my career, I have looked to Debra Mack as a mentor. She is knowledgeable and has a strong work ethic. Deborah Roberts from the University of Virginia, is another mentor. She has managed to incorporate her faith into her professional life in a very effective manner — I admire that.
The person that I model myself after is Jesus Christ. I strive to love my neighbor as myself and always work to lend a helping hand in every way that I can."
What do you hope to be doing in the years to come?
"Eventually, I want to become a county manager; however, as long as I am helping my fellow citizens and making things better than where we started from I am happy and satisfied."
As a kid, what did you want to be when you grew up?
"I wanted to be a teacher — not necessarily in the classroom but instructing or leading others to be better and more informed."
What has being named a finalist, and a now winner, in the Women to Watch Awards meant for you personally and professionally?
"What a truly humbling experience. The quality and depth of the finalists has been very inspiring to me. I was honored to be a finalist and now even more so a winner. This has made me want to become more involved in the community and give back even more."
Anyone you'd like to thank in relation to the award or any other comments to share?
"First I want to thank (New Hanover County Commissioners} Vice Chair Beth Dawson for nominating me. In this process, I learned that two other had previously nominated me, and I want to thank Dennis and Diane as well. I also want to thank my County Manager Chris Coudriet for giving me the time and space to serve my community and volunteer on the various boards that I serve on.
And thanks to WILMA for recognizing the need for such an award and a forum to highlight the women in our community."
To view more of photographer Erik Maasch's work, go to websta.me/n/emaasch