2015 Women to Watch Award in Health Care
Q&A with Health Care category winner Kyle Horton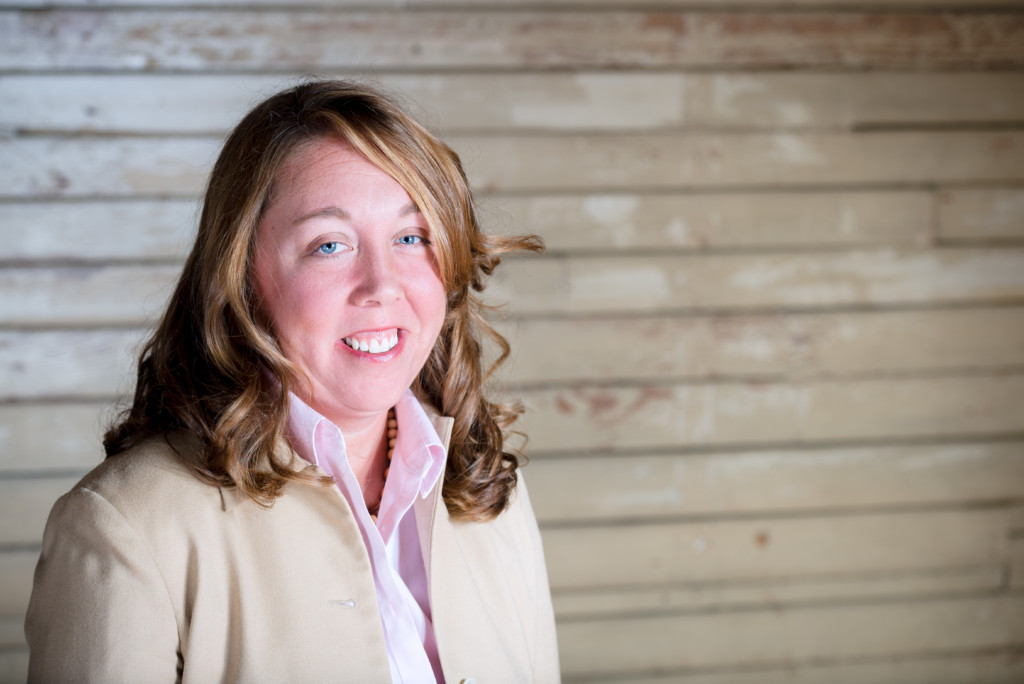 The 2015 WILMA's Women to Watch Award winner in the Health Care category is KYLE HORTON, internal medicine physician and co-director of Invisible Wounds of War project
Kyle Horton views the physician concept of "do no harm" as one that applies not just to her individual patients, but also to health care systems as a whole. So when she witnessed backlogs in the Veterans Affairs' care of soldiers returning from Iraq and Afghanistan, she decided to try and change the system.
That led to temporarily trading in her clinic hours as a doctor at a VA medical center in Virginia several years ago and heading to an unfamiliar setting: Congress.
She talked to lawmakers and staffers to build support for the Clay Hunt Suicide Prevention for American Veterans Act, named after a Marine from Texas. Bogged down in the Senate last year, the bill passed Congress this year and was signed into law in February.
It requires annual evaluations of the VA's mental health care and suicide prevention programs; creates a website with resources about mental health services available from the VA; and calls for collaboration on suicide prevention efforts between the VA and nonprofit mental health organizations.
Horton, who earned her medical degree and MBA in a five-year dual degree program from Wright State University's Boonshoft Physician Leadership Development Program, has returned to direct patient care. She practices as an internal medicine physician in Wilmington but hasn't given up her advocacy role for veterans.
She now serves as co-director of the Invisible Wounds of War project.
WILMA: What inspired you to pick the field you're in now?
"I was inspired to choose a career in medicine, because of a love of science and desire to care for and serve others."
"I always felt a fundamental calling toward science, but I did not decide to apply to medical school until my junior year at UNCW. It was my neighbor, whose son I used to babysit, who first suggested I pursue medicine and follow in his footsteps in orthopedic surgery. He allowed me to shadow in his clinic, and I was immediately drawn to the ability to tie my love of science, caring for others, and sports. At that time, I was really leaning toward a career in sports medicine or orthopedic surgery. During medical school, I found my calling toward internal medicine. Internal medicine really inspired me as an intensely cerebral specialty that not only involved difficult diagnostic challenges but also a broad variety of procedures and practice settings. Internal medicine is such an interesting profession, because of the incredible diversity to the cases internists manage and the challenge to caring for people with multiple chronic medical problems.
The very same challenges and diversity of opportunity I saw in internal medicine drew me to pursue my MBA with my MD in a dual-degree program. I feel very strongly about the role health care professionals can and should play in running practices, health care systems, and in health care policy. I am inspired to be a next generation leader in shaping health care systems and policy to improve affordability, quality and access to care in this country."
Are there any mentors or role models, famous or personal, you've looked to in your career?
"My mentors and role models have changed as my career ambitions have evolved. I have really come to admire Sen. Elizabeth Warren in recent years. She is from working-class roots and pursued her law degree later in life to become an expert and trailblazer in consumer protection and banking regulation/Wall Street. Her first big piece of legislation really tied together her life experiences in an exemplary and bold way to proclaim that students should be able to borrow at the same rate as Wall Street banks. As an Ivy League professor, she had seen the effects of crushing college loan debt on her own students who were often charged as much as nine times the interest rate of Wall Street. She acted on what she values — education — to protect opportunities for students and working-class families like the one she grew up in. I have drawn so much inspiration from her bold willingness to speak truth to power. She speaks from her heart and personal experience about what is fair.
As I worked through policy solutions and ways to improve the care of veterans who were delayed within the VA system, I drew so much inspiration from Sen. Warren. She is a powerful female leader who is never afraid to speak with conviction and authority even when faced with long odds and moneyed opponents. In the waning hours when I knew that the Clay Hunt Suicide Prevention for American Veterans Act — the federal veteran suicide prevention bill I was working on — would fail to pass, she was actually presiding over the Senate chamber in the late night hours. Having read her biography and knowing how she grew up, it was so moving to see her in action. I knew I had to continue to follow her example to lead with conviction from my heart."
What do you hope to be doing in the years to come?
"I hope to continue to tie together my strong background in clinical medicine with my business training and policy knowledge.
Unfortunately, my early career as a physician included observing delays in care and difficulty in access to care and benefits for many of my veteran patients. Many of the delays and problems were related to mental health care access and funding issues in an overstressed system. These problems are not unique to the VA. Rep. Tim Murphy has famously said about our neglect for the mentally ill that, "we have replaced the hospital bed with the jail cell, the homeless shelter, and the coffin." Nowhere is this statement more relevant than when it comes to our veterans.
The Clay Hunt SAV Act was only funded $22 million over five years to address twenty-two veteran suicides per day. Obviously, this is a minimal investment toward a public health crisis. We have to do much more. In the coming years, I plan to continue working to end the stigma against mental health care and push for community awareness and discussion of best practices in suicide prevention. I also will work to ensure resources are available to our veterans and active duty families commensurate with their sacrifice and commitment to serve this country.
At a minimum, providing a safety net for veteran and active duty families seems like a universal American value for bipartisan agreement. In reality, food stamp usage by military families quadrupled from 2007 to a record high in 2013. Around 8 percent, or over 61,000 NC households, drawing SNAP involve a veteran. Recent cuts to the Farm Bill affected an estimated 486,000 military families. We owe these families better, and I want to be a part of changing this. It is my fundamental belief that if we cannot afford to take care of veterans and their families, then we should not send them to war. As long as we are continuing to engage in overseas conflicts, I plan on continuing to write, speak, and advocate for benefits and resources to support veterans and active duty service members and their families."
As a kid, what did you want to be when you grew up?
"My parents love to tell the story of how I answered this question to one of their friends when I was around age five. I told him that I wanted to be either 'a paleontologist or a waitress at Pizza Hut.' As funny as this may sound, I think my five-year-old self was actually very self-aware as to what I would find fulfilling as a career.
I am still driven by a fundamental love of science and a desire to serve others. Medicine has been a really interesting combination of science and service. In addition to medicine, I have found fulfillment in policy work that has broader implications to help more people than I could ever see in direct patient care. I think my interest in policy and politics was present at an early age as well. In the fourth grade, I was Michael Dukakis' campaign manager in our elementary school's presidential election. I gave the introduction speech for the candidate in front of my entire elementary school. Memorable papers that my parents kept from school included an essay I wrote about my hero: my cousin in the Marine Corps. Another essay pointed out my concern for the hypocrisy of President Bill Clinton sending Chelsea to a private school when he espoused being a staunch public school proponent. I was probably always meant to be a physician, public servant, and advocate who questions authority."
What has being named a finalist, and a now winner, in the Women to Watch Awards meant for you personally and professionally?
"This has been a tremendous honor both personally and professionally. To be recognized among a group of such amazing women just made it all the more touching. I believe very strongly in the need for women to support, mentor, empower, and recognize the achievements of other women.
I am so grateful to WILMA for providing just that kind of network, mentorship, and recognition. Friends recently reminded me of the words of Margaret Mead: "Never doubt that a small group of thoughtful, committed citizens can change the world; indeed, it's the only thing that ever has." Looking around the room for the WILMA Women to Watch finalist celebration, all I could think of were the tremendous possibilities of this committed, thoughtful group of women. This recognition has meant validation for the journey I started with my work on the Clay Hunt SAV Act and to improve veterans' health care and mental health access. I will take this award as a tremendous encouragement to keep going in those efforts."

Anyone you'd like to thank in relation to the award or any other comments to share?
"First, thank you to WILMA who made this possible. I want to also thank my friends and allies in the fight for the Clay Hunt SAV Act-the Iraq and Afghanistan Veterans of America. My friends at IAVA inspiringly never forget their commitment to have the backs of their fellow veterans and never give up on their commitment to serve this country.
Thank you to Richard and Susan Selke who shared their family's loss, so that no other families might know the same pain. Thank you Richard for traveling clear across the country to help me continue the conversation about mental health, suicide, faith, and healing here in North Carolina. Thank you also to Congressman Ron Barber for traveling from Arizona to Greensboro to speak with me on the policy panel. It was an honor to sit alongside you and discuss the shortcomings in mental health resources and the evolving role of suicide prevention training available through policy enacted with the Mental Health First Aid Act.
I also want to recognize and thank my friend Jen Johnson, who is technically a co-director for the Invisible Wounds of War project, but has actually been much more. Jen has been the visionary, artist, and inspiration for all of the rest of us. Thank you Jen and to the veterans who participated in our workshops. To our vet participants, I want to thank you for your willingness to share your very personal struggles with others and work through painful experiences. Deepest appreciation as you will inspire and move people powerfully. We can hope that our exhibit will foster much-needed community conversations on how to meet vets coming home to our area with understanding, compassion, and resources to support their transition."
To view more of photographer Erik Maasch's work, go to websta.me/n/emaasch