2013 Nominees and Judges
250+ incredible women women to watch!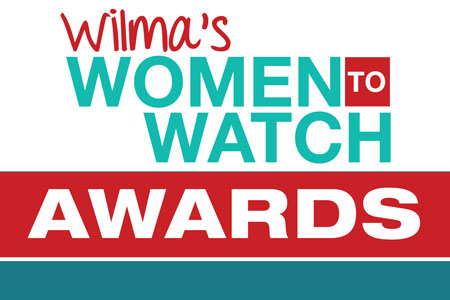 E
very month WILMA Magazine profiles amazing things local women are doing throughout the community so we thought why not highlight some of these women through an award as well? Entries were collected from May – July, and we received 253 nominations in 7 categories.
Women to Watch award winners will be announced and profiled in the October issue of WILMA Magazine!
Women to Watch Judges
Donna Bost, vice president at New Hanover Regional Medical Center
Kelly Buffalino, owner of Wilmington-based Pink-Trash
Wilma Williams Daniels, owner of William Hooper Apartments/president of Daniels Development Company LLC
Beth Dawson, vice chairwoman of the New Hanover County Board of Commissioners
Janine Iamunno, executive director of university relations for UNCW
Chiaki Ito, Wilmington attorney and a City Stage producer
Julie Orr, founder and president/CEO of Modoc Research Services Inc.
JC Skane, executive director of Wilmington Area Rebuilding Ministry Inc.
Women to Watch Nominees
Sheila

Brothers

Arts

Heather

Burns

Arts

Katherine

Clark

Arts

Michelle

Connolly

Arts

Nina

de Gramont

Arts

Elissa

Edwards

Arts

Donna

Green

Arts

Andrea

Hill

Arts

Dawn

Hoback

Arts

Nikki

Hooker

Arts

Alice

Houston

Arts

Amanda Greene

Irwin

Arts

Marlene

McDonald

Arts

Barbara

McKenzie

Arts

Laura

Miller

Arts

Frances

Mims

Arts

Miriam

Oehrlein

Arts

Lori

Peterson

Arts

Beth

Raynor

Arts

Wendy

Reavis

Arts

Nicole

Thompson

Arts

Robin

Thompson

Arts

Susan

Walters

Arts

Karen

White

Arts

Abby

Adams

Business

Ilene

Anders

Business

Sara

Babin

Business

Dina-Singer

Badawi

Business

Anne

Brewer

Business

Debi

Byrd

Business

Donna

Cameron

Business

Melanie

Cameron

Business

Katherine

Clark

Business

Wanda

Coley

Business

Quinlan "Quinn"

Cook

Business

Dana

Cook

Business

Ashley

Coptsias

Business

Cindy

Davis

Business

Raine

DeVincenzi

Business

Kara

Duffy

Business

Jessica

Edwards

Business

Christi

Ferretti

Business

Jamie

Getty

Business

Emily

Goodman

Business

Kelly

Hanley

Business

Pamela

Heider

Business

Suzannah

Hicks

Business

Shelley

Hobson

Business

Clarice

Holden

Business

Lisa

Isenhour

Business

Sandy

Johnson

Business

Megan

Kopka

Business

Jennifer

Kraner

Business

Susan

Laurance

Business

Lynn

Manock

Business

Pam

Maruinko

Business

Shirley

Mayfield

Business

Jennifer

McGroaty

Business

Jasmine

McKee

Business

Gaby

Merediz

Business

Lisa

Mesler

Business

Denise

Miles

Business

Adrienne

Moore

Business

Peggy

O'Leary

Business

Jill

Raspet

Business

Gwenyfar

Rohler

Business

Meridith

Rosborough

Business

Charlotte

Rosenberg

Business

Vicki

Sewell

Business

Donna

Shannon

Business

Mary Jo

Shipman

Business

Donis

Smith

Business

Nikki

Spears

Business

Sandra

Spiers

Business

Lorissa

Stefanelli

Business

Nicole

Stone

Business

Laurel

Thornton

Business

Nicole

Valentine

Business

Susette

van Arsdale

Business

Lindsay

Waltz

Business

Melanie

Welsh

Business

Jessie

Williams

Business

Julie

Wilsey

Business

Teresa

Woods-Cox

Business

Ellen

Wortman

Business

Lynnette

Askew

Education

Ryanna

Battiste

Education

Charles

Hardy

Education

Jennifer

Hatch

Education

Suzannah

Hicks

Education

Deborah

Houston

Education

Jenifer

Kantrowitz

Education

Leslie

King

Education

Catherine

Lee

Education

Deanne

Meadows

Education

Mary

Mortenson

Education

Ivy

Murrain

Education

Jennifer

Robbins

Education

Michelle

Scatton-Tessier

Education

Ronette

Wilson

Education

Jennifer

Askew Buxton, BS, PharmD, CPP

Healthcare

Kristen

Baker

Healthcare

Angie

Barr

Healthcare

Jillian

Barras

Healthcare

Amber

Brantley

Healthcare

Crystal

Gentry

Healthcare

Rosalyn

George

Healthcare

Elizabeth

Henry

Healthcare

Yvonne

Hughes

Healthcare

Tiffany

Jackson

Healthcare

Tracey

McCarthy

Healthcare

Roxanne

Noble

Healthcare

Kimberly

Paul

Healthcare

Daerr

Reid

Healthcare

Kim

Restivo

Healthcare

Tina

Rivenbark

Healthcare

J'nelle

Ruscetti

Healthcare

Tabetha

Smith

Healthcare

Constance

Tambakis-Odom

Healthcare

Laurel

Thornton

Healthcare

Mindy

Totten

Healthcare

Jennifer

Whaley

Healthcare

Courtney

Wilson

Healthcare

Annie

Adams

Nonprofits/Volunteer

Jennifer

Adams

Nonprofits/Volunteer

Stacy

Ankrum

Nonprofits/Volunteer

Carol

Barre

Nonprofits/Volunteer

Jane

Birnbach

Nonprofits/Volunteer

Ana

Boudreau

Nonprofits/Volunteer

Mary

Bradley

Nonprofits/Volunteer

Angie

Brewer

Nonprofits/Volunteer

Vicki

Dull

Nonprofits/Volunteer

Claudette

Fiskin

Nonprofits/Volunteer

Dorene

Harris

Nonprofits/Volunteer

Deb

Hays

Nonprofits/Volunteer

Mary

Heath

Nonprofits/Volunteer

Cassandra

Herion Moore

Nonprofits/Volunteer

Connie

Hill

Nonprofits/Volunteer

Meagan

Jackie

Hutchings

Jordan

Nonprofits/Volunteer

Nonprofits/Volunteer

Tracey

Kellogg

Nonprofits/Volunteer

Missy

Kennedy

Nonprofits/Volunteer

Caroline

Lewis

Nonprofits/Volunteer

Erika

Barbara

Kim

Amy

Barbara

Kelly

Sandra

Laurie

Debbie

Joy

Olympia

Merriman

Mullins

Niggel

Preusser

Raab

Russell

Spiers

Taylor

Todd

Wade

Yarger

Nonprofits/Volunteer

Nonprofits/Volunteer

Nonprofits/Volunteer

Nonprofits/Volunteer

Nonprofits/Volunteer

Nonprofits/Volunteer

Nonprofits/Volunteer

Nonprofits/Volunteer

Nonprofits/Volunteer

Nonprofits/Volunteer

Nonprofits/Volunteer

Rhonda

Tammy

Devina

Amy

Melody

Yvette

Lori

Tanya

Amy

Kimberly

Amoroso

Beasley

Beatty

Beatty

Escarsega

Gosline

Harris

Isley

Long

McLaughlin-Smith

Public Service

Public Service

Public Service

Public Service

Public Service

Public Service

Public Service

Public Service

Public Service

Public Service

Lindsey

Neumann

Public Service

Avril

Pinder

Public Service

Shannon

Sigle

Public Service

Marianna

Stacy

Public Service

Laurie

Watson

Public Service

Kristy

Williams

Public Service

Ellen

Willis

Public Service

Julie

Wilsey

Public Service

Abby

Adams

Rising Star (under 30 years old)

Aimee

Bowen

Rising Star (under 30 years old)

Amber

Brantley

Rising Star (under 30 years old)

Kathryn

Bruner

Rising Star (under 30 years old)

Dana

Buck

Rising Star (under 30 years old)

Erika

Burns

Rising Star (under 30 years old)

Scarlett

Chalmers

Rising Star (under 30 years old)

Katherine

Clark

Rising Star (under 30 years old)

Ashley

Coptsias

Rising Star (under 30 years old)

Jenna

Curry

Rising Star (under 30 years old)

Katie

Eagle

Rising Star (under 30 years old)

Katie

Garner

Rising Star (under 30 years old)

Chloe

Hallberg

Rising Star (under 30 years old)

Teeny

Harris

Rising Star (under 30 years old)

Leah

Karash

Rising Star (under 30 years old)

Cheryl

Knips

Rising Star (under 30 years old)

Kristen

LaCoe

Rising Star (under 30 years old)

Lindsay N.

Maher

Rising Star (under 30 years old)

Emma

Nelson

Rising Star (under 30 years old)

Lindsey

Neumann

Rising Star (under 30 years old)

Alexandra

O'Rourke

Rising Star (under 30 years old)

Sylina

Phelan

Rising Star (under 30 years old)

Emily

Savard

Rising Star (under 30 years old)

Julia

Thompson

Rising Star (under 30 years old)

Kristina

Wolfe

Rising Star (under 30 years old)